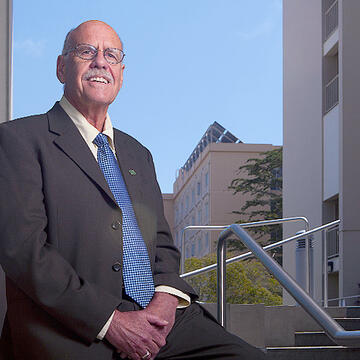 Larry Brewster
Professor Emeritus
SFH Downtown Campus, Room 226
Biography
Professor Larry Brewster is an educator, author, and professional consultant with areas of specialization that include public policy, organizational systems and development, social psychology, management theories and practice. Dr. Brewster is the co-author of A Primer of California Politics and The Public Agenda: Issues in American Politics.
With unparalleled commitment to his students and fellow faculty, Dr. Brewster has served in high-tier administrative appointments as Dean, Associate Dean, and MPA Director at various universities throughout the state, managing programs and curricular development, as well as securing funding in support of scholarships and faculty research.
As the former Director of Market Research for a leading international data and telecommunications company, Professor Brewster draws from his work as a management executive, as well as his research on local, state, and national politics to help students develop a more rigorous and comprehensive approach to the study of management and systems within organizations.
Expertise
Public Policy
Organizational Systems and Development
Social Psychology
Management Theories and Practice
Education
PhD, University of Southern California, 1975
MPA, Coursework completed, University of Southern California, 1976
MA, California State University at Fullerton, 1969
AB, California State University at Fullerton, 1968
Awards & Distinctions
Law Enforcement Leadership Award, USF, 2008

Outstanding Public Administrator, Annual San Francisco Chapter of ASPA (American Society for Public Administration), 1993

Dean of the College of Professional Studies, USF, 1999–2007

Interim Dean, School of Education, USF, 2002–04

Dean, Professional Studies Program and Academic Affairs, Menlo College, Atherton, CA, 1997–99 

Dean, School of Liberal Studies and Public Affairs, Golden Gate University, San Francisco, CA, 1996–97

Interim Dean, School of Arts and Sciences, Golden Gate University, San Francisco, CA, 1995–96

Dean, School of Urban and Public Affairs, Golden Gate University, San Francisco, CA, 1996
Selected Publications
Paths of Discovery: Art Practice and Its Impact in California Prisons, CreateSpace, 2012

The Public Agenda: Issues in American Politics, 5th ed., Wadsworth and Co., 2004

A Primer to California Politics: Solving Problems through State and Local Government, 2nd Ed., Wadsworth and Co., 2004

"Arts-in-Corrections: A Path of Discovery," in Contemporary Issues in Criminal Justice: A Research-Based Introduction, ed. Jeffrey Chin, et al., Looseleaf Law Publications Inc., pp. 275–292, May, 2012

"A Qualitative Evaluation of the California Arts-in-Corrections Program," Paddlefish, Mount Mary College's National Literary Journal, vol. 5, 2011

"The California Arts-in-Corrections Music Program: a qualitative study," the International Journal of Music Community, 2010