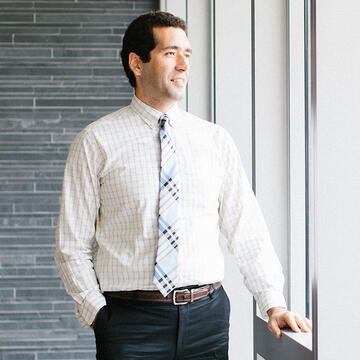 Kourosh Dadgar
Associate Professor
Biography
Associate Professor Kourosh Dadgar specializes in Management Information Systems and Industrial Design. His teaching philosophy is explore, do, and learn. His classes are organically designed and include interactive and participatory business cases that require experiential learning.
Dadgar's research focuses on the extent of importance human values are to patients with chronic disease and who are impacted by self-management systems. He hopes to both inform policy debates in the national discussion of transforming health care, as well as help design systems that support the human values of patients. Dadgar earned his BA at the University of Tehran, his MA from The Ohio State University, and his PhD from Washington State University.
Research Areas
Health IT
Design Science Research
Business Intelligence/Analytics
E-commerce
Appointments
Strategic Growth Council (SGC) and City of Oakland, California, independent data evaluator and analyst 
TCC (Transformative Climate Communities) project (Jan. 2021 - present )

Work on a $25 million transformative project with multiple stakeholders in Oakland such as displacement avoidance, workforce development, and community engagement plans
Improve their processes, create performance indicators, build and improve project data collection and integration processes and models, and evaluate their progress 

Homeless Project for the City of Oakland, data analyst (May 2019 - May 2020)

Analyzed homelessness data for the city of Oakland and provided actionable insights to design fair and inclusive effective homeless intervention programs for different ethnic groups.

Biodesign Institute, product designer (May 2012 - Aug. 2012)

Worked closely with medical scientists, researchers, and engineers designing the first portable metabolism tracker and performed usability and ergonomic tests.
Education
Ph.D, Management Information Systems, Washington State University, Pullman, Washington, 2016
MA, Industrial and Product Design, Applied Software Engineering (minor), The Ohio State University, Columbus, Ohio, 2011
BA, Industrial Design, University of Tehran, Tehran, Iran, 2008
Prior Experience
Founder and Faculty Advisor, Association for Information Systems (AIS), University of San Francisco Student Chapter, December 2017 - present
Co-chair, ICIS (International Conference On Information Systems) 2018 forum
Co-chair of mini-track, HICSS (Hawaii International Conference on System Sciences) Jan 2018-present
Awards & Distinctions
Faculty Advisor of the Year 2021-2022, Association for Information Systems (AIS) - AIS Student Chapters
Co-chair, ICIS CIO forum, December 14, 2018 San Francisco, CA
Outstanding Graduate Student Teaching Award, April 28, 2016. Carson College of Business, Washington State University
Selected Publications
Dadgar, M., & Joshi, K.D. 2020. Ethically Building Business Intelligence in Healthcare: A Value-Sensitive Perspective. In J. Khuntia, X. Ning, & M. Tanniru (Eds.), Theory and Practice of Business Intelligence in Healthcare (pp. 256-278). Hershey, PA: IGI Global.
Vithayathil, J., Dadgar, M., and Osiri, J. K. 2020. "Social Media Use and Consumer Shopping Preferences," International Journal of Information Management (54), p. 102117.
Dadgar, M. 2020. Knowledge Creation by Practitioners and Designers: From Tacit to Explicit. In Endreß, T. (Eds.), Digital Project Practice - Managing Innovation and Change (pp. 78-88). Hamburg, Germany: tredition GmbH.
Dadgar, M. and Joshi, K.D. 2018. "The Role of Information and Communication Technology in Self-Management of Chronic Diseases: An Empirical Investigation through Value Sensitive Design," Journal of the Association for Information Systems (JAIS), 19(2), pp. 86-112.
Lin, X., Clay, P. F., Hajli, N., and Dadgar, M. 2016. "Investigating the Impacts of Organizational Factors on Employees' Unethical Behavior Within Organization in the Context of Chinese Firms" Journal of Business Ethics, 1–13.