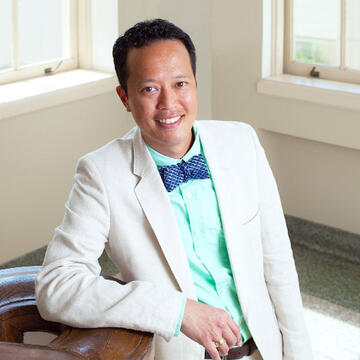 Biography
Kevin Lo, associate professor in the Department of Organization, Leadership and Communication, is a graduate of the USF joint Master of Business Administration (MBA) - Master of Arts in Asia Pacific Studies (MAPS) program. His scholarly work and teaching focus on emotional and cultural intelligence.
Professor Lo has lived and worked in Beijing, Taipei, and Auckland and draws upon these international experiences to encourage his students to recognize a wide range of management and organizational issues. Since returning to USF, Professor Lo has immersed himself in Ignatian pedagogy through mindfulness, self-care, and strengths-based leadership. He firmly believes in educating the whole person, consistent with the Jesuit value of cura personalis, and hopes his students will have enjoyable learning experiences while gaining understandings of how people think and behave at work.
Expertise
Emotional and Cultural Intelligence
Mindfulness and Self-Care
Research Areas
Strengths-Based Leadership
Cross-Cultural Management
Management Education
Appointments
President Elect, Management and Organizational Behavior Teaching Society
Co-Chair, University Peer Review
USFFA, Social Director
Education
University of Hawaii, PhD in International Management, 2007
University of San Francisco, MBA, 2001
University of San Francisco, MA in Asia Pacific Studies, 2001
Brown University, BA in East Asian Studies and Comparative Literature, 1996
Prior Experience
Assistant Professor in Management and International Business, University of Auckland
Awards & Distinctions
University of San Francisco Distinguished Teaching Award 2020

University of San Francisco School of Management Outstanding Teaching Award (Tenured Faculty) 2017

University of San Francisco Faculty Service-Learning Award 2014
Selected Publications
Bennett, A. A., Lo, K. D., Pervez, A., Nelson, T. A., Mullane, K., Farrell, M., Wilson, S., Decker, M. W., & Tarr, E. K. (2021). Exploring business doctoral students' attitudes, training, and use of classroom experiential learning activities. International Journal of Management Education, 19 (2), 100493.
Pervez, A.J., Brady, L., Mullane, K.B., Lo, K.D., Bennett, A.A., & Nelson, T.A. (2021). An Empirical Investigation of Mental Health, Impostor Syndrome, and Social Support in Management Doctoral Programs, Journal of Management Education, 45(1), 126-158.
Nelson, T.A., Lo, K.D. & Jhamb, S., (2020). The robots are coming! Are you ready? In S. Allen, K. Gower, & D. Allen (Eds.) Handbook of Teaching with Technology in Management, Leadership, and Business (pp. 224-236). Edward Elgar Publishing, Inc.
Edelson, S.A., Lo, K.D., Nelson, T.A., Stark, G., Stratton, M.T., Van Esch, C. (2019). From the shadow of overconfidence to the light of humility: Experiential activities gone awry. Journal of Management Education, 43(2), 200-211.