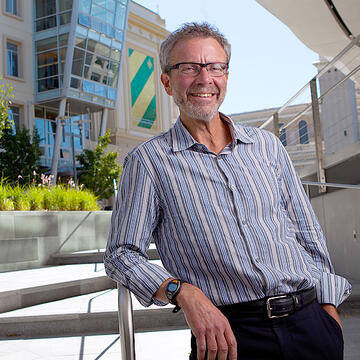 Jonathan Barsky
Associate Professor
Biography
Associate Professor Jonathan Barsky, a teacher in the School of Management for over two decades, is the author of more than 100 articles published in reputable academic and trade journals, and two books including World-Class Customer Satisfaction, now in its 17th year of publication. Dr. Barsky brings to USF internationally recognized research in the field of customer satisfaction, with a focus on the hotel and gaming industries.
Conducting extensive research into the factors that influence customer satisfaction, Dr. Barsky engages students with topical business issues that include his own work on measuring and improving the guest experience. Dr. Barsky has earned special recognition for his work on customer loyalty emotions and linking customer satisfaction to loyalty, profitability and other business outcomes.
As an educator, Professor Barsky hopes to develop in his students the ability to question the ways in which companies market their products and services. By introducing them to successful marketing principles and more robust ways to understand and analyze customers - he believes students can bring an enlightened perspective to business that integrates marketing theory with current technology and the realities of today's consumer markets.
Education
Ph.D., Marketing, Golden Gate University, San Francisco, CA, 1991
M.S., Hotel Restaurant and Travel Administration, University of Massachusetts, Amherst, MA, 1981
B.A., Spanish, Minor in Business Administration, Bucknell University, PA, 1978
Awards & Distinctions
Appointed to the California State Committee on Education and Tourism

 

Outstanding Research Award, McLaren School of Business, USF, 1992

Co-founder, Market Metrix, 1996 - present
Selected Publications
"Critical Behaviors and Trends of Casino Customers: A New Segmentation Model for the North American Gaming Industry," Global Business Development Journal, 2010

"The Effectiveness of Casino Loyalty Programs - Their Influence on Satisfaction, Emotional Connections, Loyalty and Price Sensitivity," Global Business Development Journal, 2010

"Hotel Loyalty Programs," Chapter in International Encyclopedia of Hospitality Management, 2nd Edition, 2010

"Casino Customer Attitudes and Behaviors," Hotel and Motel Management, 2010

"Customer Satisfaction: Applying Concepts to Industry-Wide Measures," Cornell Quarterly, 2003