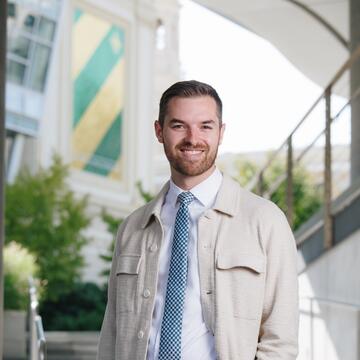 Johnathan Cromwell
Assistant Professor
Biography
Innovation drives the production of new and useful products, services, and technologies that can help solve some of society's greatest problems. However, it is important to understand that these innovations are created by and for people.
Johnathan Cromwell USF Assistant Professor
Assistant Professor Johnathan Cromwell's research focuses on how people collaborate with each other as they define, solve, and change problems while working on creativity and innovation projects in organizations. This work helps advance a nascent theoretical framework called "dynamic problem solving," which aims to explain when, why, and how people can fluidly shift between different models of problem solving as they work within various constraints in organizations.
Cromwell's teaching focuses on helping students learn how to understand and apply multiple perspectives during problem solving so that they can become a bridge between organizational silos in their future careers. To this end, Cromwell teaches an exciting new course called Product Engineering, which aims to give non-technical students a better understanding of how engineers think, solve problems, and view the world around them. He also teaches a course on Creativity, Innovation, and Applied Design, in which students learn the theory and application of various models of problem solving.
Research Areas
Creative thinking
Creative problem solving
Innovation in teams
Appointments
Affiliated faculty member of the Department of Engineering
Education
DBA Management, Harvard Business School
S.B. Chemical-Biological Engineering, MIT
Awards & Distinctions
Most Outstanding Conference Paper, INGRoup Conference: 2021

Best Paper Award, Academy of Management, OB Division: 2018

Conference Proceedings x3, Academy of Management: 2017, 2018, 2020

Academy of Management Review Outstanding Reviewer Award: 2020

Best Reviewer Award x6, Academy of Management, TIM Division: 2016–2021
Selected Publications
Cromwell, J. & Kotelly B. (2021). A framework for innovation in the COVID-19 era and beyond. MIT Sloan Management Review. 

Cohen, A. K. & Cromwell, J. R. (2021). How to respond to the COVID-19 pandemic with more creativity and innovation. Population Health Management, 24(2), 153–155.

Cromwell, J. R. & Gardner, H. K. (2020). High-stakes innovation: When collaboration in teams enhances (or undermines) innovation in professional service firms. Journal of Professions and Organization, 7(1).

Cromwell, J. R. (2020). The social psychology of creativity skills: A re-conceptualization of the componential model. In R. Reiter-Palmon, C. M. Fisher & J. S. Mueller (Eds.), Creativity at work: A festschrift in honor of Teresa Amabile (pp. 21–33). New York: Palgrave Macmillan.

Cromwell, J. R., Amabile, T. M., & Harvey, J.-F. (2018). An integrated model of dynamic problem solving within organizational constraints. In R. Reiter-Palmon, V. Kennel & J. C. Kaufman (Eds.), Individual creativity in the workplace (pp. 53–81). New York: Academic Press.