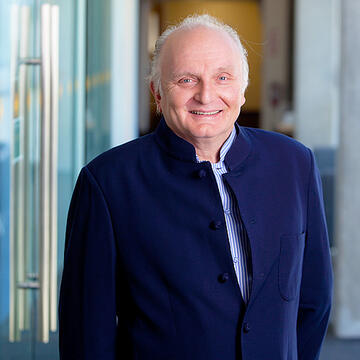 Jean-Marc Fullsack
Executive Chef, Hospitality Coordinator, Instructor
Biography
Jean-Marc Fullsack, Executive Chef and Instructor in the Hospitality Management Program, was born in France where he trained in classical French cuisine and graduated from the Hotel and Restaurant School, Ecole Hôtelière, in Strasbourg. While Chef Fullsack worked in first-class restaurants, hotels, private clubs, and in food service management, one of the highlights in his culinary career was preparing dinner for President Bill Clinton and his family at the White House.
Chef Fullsack's expertise in healthy cooking brought him to work alongside Dr. Dean Ornish as the Executive Chef in his Program for Reversing Heart Disease, the Preventive Medicine Research Institute (PMRI), and contributing to his bestselling books Eat More Weigh Less and Everyday Cooking with Dr. Dean Ornish.
Chef Fullsack was the first Guest Chef to instruct staff chefs in the President's home, on Air Force One, at Camp David, and in the Navy Mess Hall. Mr. Clinton gratefully recognized Jean-Marc's great skill in nutritious cooking. Chef Fullsack cooked for and worked with the food service staff of the House of Representative, U.S. Senate. U.S. Navy, and U.S. Army. He received the Walter Reed Medal for Outstanding Performance for his work at Walter Reed Medical Center.
Since joining USF's School of Management in 1997, Jean-Marc has continued to help develop and streamline existing syllabus guidelines, recipe books, textbooks, sanitation and safety procedures, and program software integration. Drawing inspiration from his French heritage and culinary training, California's locally-sourced/organic/sustainable/whole foods movement, and San Francisco's nearly unparalleled multi-ethnic food experience, Chef Fullsack believes his students could not be more fortunate than to learn in one of the most exciting, culturally and culinarily diverse cities in the world.
Education
CAP, Ecole Hôtelière de Strasbourg, Strasbourg, France, 1972
Awards & Distinctions
Walter Reed Medal for Outstanding Performance, Walter Reed Medical Center
Selected Publications
The following list is a selection of recent publications and does not represent the entire body of research.

 

Chef Fullsack has contributed to the following publications:

Eat More, Weigh Less, Dr. Dean Ornish, Harper Collins, New York, 1993

Everyday Cooking with Dr. Dean Ornish, Dr. Dean Ornish, Harper Collins, New York, 1997