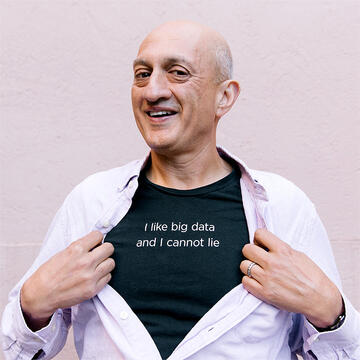 SFH Downtown Campus, Room 601
Biography
Professor Vijay Mehrotra serves as a professor of Business Analytics at the University of San Francisco, where he has recently developed an innovative module for his MBA students that is focused on Customer Success Management (the first such academic program in the world). He also leads the Business Analytics concentration within USF's MBA program and teaches courses in Business Analytics, Predictive Modeling, and Data Mining.
Since 1992, he has been active in the world of analytics, technology, management, and innovation.  Prior to becoming a professor, he spent more than a decade working full-time in Silicon Valley as an analytics consultant, entrepreneur, and executive.  Since 2010, his column "Analyze This!" has been published in every edition of Analytics magazine. In addition to his teaching and research, he regularly advises and invests in early-stage technology start-ups and consults with companies large and small on their use of data and models. In addition, he regularly performs as a public storyteller at venues across the San Francisco Bay Area. 
Professor Mehrotra holds a PhD in Management Science and Engineering from Stanford University, a BA in Mathematics, Economics, and English from St. Olaf College, season tickets to the San Francisco Giants, and very few grudges. His personal motto is "Get to Know Me and Something Will Happen.
Appointments
Director, Customer Success Management Initiative
Columnist for Analytics Magazine
Associate Editor, INFORMS Transactions on Education
Academic Director, MBA For Executives
Education
Ph.D., Operations Research, Stanford University, 1992
M.S., Operations Research, Stanford University, 1989
B.A. Mathematics, Economics and Statistics, St. Olaf College, 1986
Selected Publications
"Staffing call centers under arrival-rate uncertainty with Bayesian updates," Operations Research Letters 46(4), 2018
"A Student-Centered Approach to the Business School Management Science Course," INFORMS Transactions on Education 16(2), 2016 (with T Grossman and M. Sidaoui)
"Getting Value From Your Data Scientists," MIT Sloan Management Review 56(1), 2014 (with J. Harris)
"Call Center Routing Strategies in the Presence of Servers with Heterogeneous Performance Attributes," Manufacturing and Service Operations Management 14 (1), 2012 (with K. Ross, G. Ryder and Y.P. Zhou)
"Intelligent Procedures for Intra-Day Updating of Call Center Agent Schedules," Production and Operations Management 19 (3), 2010 (with Ö. Özlük and R.M. Saltzman)
"OR Process Skills Transform an Out of Control Call Center into a Strategic Asset," Interfaces, 39 (4), July-August 2009 (with T. Grossman)
"Forecast Errors in Service Systems," Probability in the Engineering and Informational Sciences, 23 (2), April 2009 (with S. Steckley and S. Henderson)