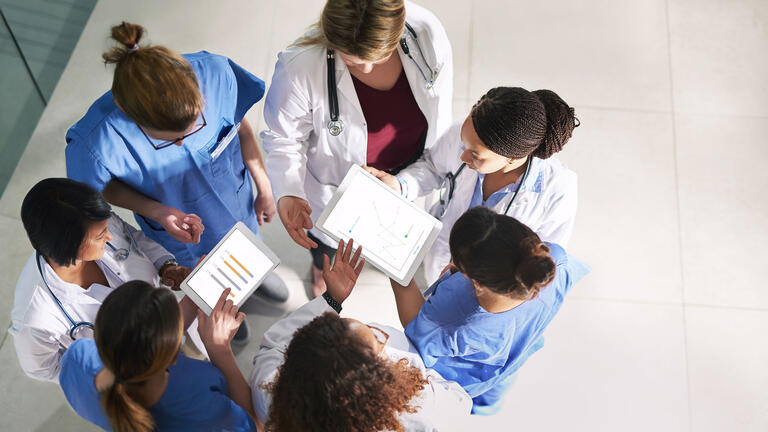 Digital Health Informatics, MS
Internships & Student Projects
Explore the Field – Students will pursue advanced training in line with their career goals in areas such as bioinformatics, clinical decision support systems, medical imaging and biosignal analysis.
Internships
The Internship program provides the critical interface between academia and industry for the rapidly changing field of health informatics. Our Students have a unique opportunity to help guide the future of health informatics education and to collaborate with corporate partners in an effort to accelerate the translation of cutting-edge research to the bedside.
Internships in large medical centers may require students to implement new software, decision support methods, or analyze quality and patient outcomes data. Students have interned at Kaiser Permanente, San Francisco General Hospital, Northern California Institute of Research and Education (NCIRE), San Francisco VA Medical Center and many more.
While interning at the VA San Francisco Medical Center as an informaticist, I gained experience by designing their intranet website for educators. Currently, I'm interning as a Clinical Data Analyst at Genentech. I am working on project management to apply Robotic Process Automation (RPA) of existing manual processes."
Karen Babas '21
Example Projects
Presenters: Luika Timmerman, Rashmi Manjunath
Sponsor: UCSF Helen Diller Family Comprehensive Cancer Center
Faculty Advisor: Prof. Patricia Francis-Lyon, Bioinformatics

There is a subtype of breast cancer that is associated with aggressive progression, high levels of recurrence and the affliction of younger women. These are known as triple-negative/basal-like breast cancers (TNBC), as they test negative for expression of three proteins, two of which are the target of therapeutics in common use in the breast cancer clinic (estrogen, progesterone and HER-2 receptors). A specific therapeutic target has not yet been found to treat TNBC and prognosis remains poor for women with these tumors. In an effort to identify such a target for triple-negative breast cancer (TNBC), the Timmerman lab at the UCSF Helen Diller Cancer Center is working to gain an understanding of the mechanisms and genomic relationships involved in unregulated cellular proliferation in TNBC. Potential targets have been identified for the development of drugs that target tumor metabolism.

As part of that effort, bioinformatics investigations utilizing genomic and proteomic data to gain insights that might be actionable in the treatment of breast cancer were conducted. The TCGA breast cancer dataset was explored for patterns of genomic alterations and expression that are associated with breast cancer subtypes, noting particularly how these differ with TNBC as opposed to other breast cancer subtypes. A principal components analysis has been conducted of expression levels of PAM50 genes in the cancers of 1208 patients, as well as PCA analysis of the differential expression of these genes in the tumor vs normal breast tissues of patients. Exploration of the potential targets identified by the Timmerman lab have been conducted. Additionally, clustering techniques have been employed to infer missing subtypes so as to augment the basal-like category in the TCGA breast cancer dataset for future analysis.

MS in Health Informatics students Nikhil Haas '15 and Chris Atterbury '15 built the analytics website ReceptorMarker that allows scientists to upload caches of data, which it translates into visual diagrams that highlight cell behavior.