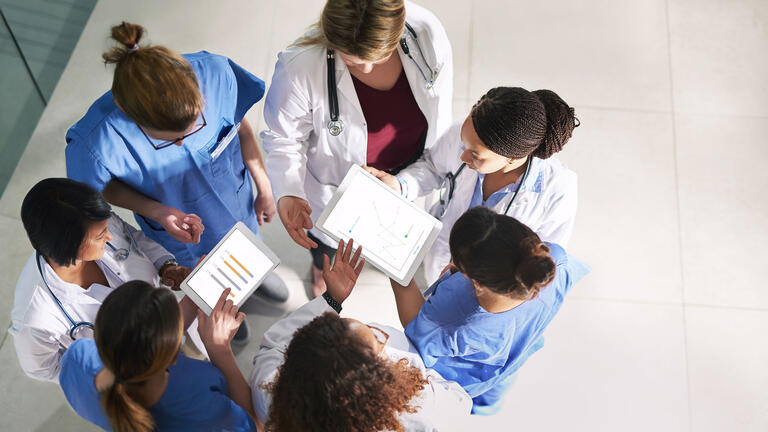 Digital Health Informatics, MS
FAQs
Review the frequently asked questions below for more information about the Master of Science in Digital Health Informatics program. Please contact health@usfca.edu if you have any additional questions.
Biomedical and Health Informatics (BMHI) is an interdisciplinary field that applies modern digital health, data analytics and computer science to healthcare. This involves the effective use of biomedical data, information, and knowledge for scientific inquiry, problem solving, and decision making, motivated by efforts to improve human health.

builds on data analytics, computing, communication, and information sciences and technologies and their application in biomedicine
builds on computing, communication, and information sciences and technologies and their application in biomedicine
investigates and supports reasoning, modeling, simulation, experimentation, and translation across the spectrum from molecules to populations, dealing with a variety of biological systems, bridging basic and clinical research and practice, and the healthcare enterprise
recognizing that people are the ultimate users of biomedical information, draws upon the social and behavioral sciences to inform the design and evaluation of technical solutions and the evolution of complex economic, ethical, social, educational, and organizational systems

A graduate of the MS DHI program will be able to:

Work as a health data analyst to lead the development and advancement of machine learning and information technologies to improve healthcare delivery, access, and cost.
Build or join innovative start-ups using information technology to create new health applications.
Contribute technology expertise to help global health organizations meet critical world needs.
Participate in the development, implementation, evaluation, and management of information technology solutions to improve patient care and the healthcare delivery process.

Students can complete this program in three (3) to six (6) semesters with a total of thirty-six (36) units total, including up to four (4) units of required electives. Students with work or family responsibilities may complete the program as early as one year or extend the length to around three years.

This program is delivered synchronously on-campus and online. Students take part in classes that meet once a week. Some weeks students meet online only.  Flexible time options will be provided to accommodate schedules.

We have a very diverse body of students – with backgrounds that include from nursing, pharmacy, medicine, physical therapy, biology, business, administration, computer science, entrepreneurs, career changers and others. All have an interest in healthcare and the desire to learn and use computer technology to improve healthcare.

No, we seek health care professionals or those with a commitment or interest in healthcare, from a variety of backgrounds. Digital health informatics requires some quantitative skills, thus appropriate programming and statistical content is introduced in the curriculum. Students should be enthusiastic about learning programming skills, but are not expected to have a rigorous background in programming before entering, albeit python knowledge is expected. Basic statistical background, math understanding, and previous programming (python) are helpful, as is clinical or healthcare experience. This program is also suited to high-achieving students planning to apply to medical school or graduate programs in other clinical fields, as well as biomedical science. Our graduates have successfully gone on to MD/PhD, PhD, and Postdoctoral positions.

No, you do not need to have previous programming experience, albeit previous knowledge of python is helpful. You should be excited about learning new programming skills. Health Informatics is a rapidly advancing field that is built on computer and information science. Our students learn new data science skills, including some programming (R), which is needed for working with clinical and research data. We recommend that you familiarize yourself with basic Python programming concepts through one of many online tutorials. The (free) Python and R tutorials at www.datacamp.com are very good.

Yes. Clinical Informatics is a board-certified sub-speciality in the US now. Those who complete a master's degree in digital health informatics will be well prepared to sit for this exam. Since few physicians have any formal training in this specialty, you will stand out and put yourself in a strong position with graduate training in health informatics. A recent USF MSHI graduate was admitted into a prestigious MD/PhD program with a full 7-year scholarship and 1 year credit based on the MS in health informatics degree.

Yes, we have several new physicians in our program with each admissions cycle. Our graduate physicians have strong clinical skills upon entering, and gain equally strong data analytics skills in our program. They are generally able to secure exciting, challenging positions with healthcare systems. Some have continued in PhD programs in Health and Biomedical Informatics. Our students have also included those with advanced degrees in various biomedical sciences, many nurses at all levels, pharmacists, physical therapists, dental surgeons, and hospital executives. This training can be valuable for physicians and premedical students, since Clinical Informatics is now a board-certified subspecialty in the US.

Students should expect at least 2 hours of preparation and outside research per week for each unit of credit.

Yes, the MS DHI program requires its students to complete projects. The master's project will be at a level appropriate for a master's thesis. The others will be substantial projects that will be worked out together with the faculty advisor.

The MS DHI program accepts applications in the fall semester. The priority application deadline is June 1 for the fall. For more information, go to our Admissions page.

In order to excel in this rigorous graduate program, regardless of previous major or experience, applicants should have some of the following abilities:

Healthcare or Biomedical Sciences: Previous coursework or work experience in biomedical sciences, healthcare administration, clinical experience, or public health is viewed favorably. Physicians, pharmacists, nurses, and other health professionals have excelled in our program and graduated to exciting positions in a variety of organizations, including large medical centers, hospitals, and health tech startups. Pre-medical and pre-health professions students have found that our program to be a valuable stepping-stone to PhD programs, Medical School, or graduate healthcare fields.
Quantitative aptitude: Applicants must demonstrate aptitude for quantitative reasoning through excellent performance in undergraduate mathematics, business or statistics coursework, high scores on standardized tests, or specific work experience. Those with more extensive quantitative backgrounds will be able to pursue more advanced analytical topics if they choose.
Computer Programming: Health Informatics cannot exist as a discipline apart from computers. While this is not a computer science program, all accepted students must be prepared to do some computer programming (Python) as part of their statistical and informatics methods courses. Students are not required to have any specific background in programming upon entrance. Most of all, they must bring enthusiasm for learning and willingness to work hard alone and collaboratively to gain these skills. The strongest applicants will have taken at least one undergraduate-level computer science or basic programming course, or have some experience with a statistical or scripting language (R, Python, or SAS, for example) gained through self-study or work experience.
Passion to use Technology for Good: Our motto, Change the World From Here, is more than just an advertising slogan. Our graduates seek to start new companies, find new ways to use clinical data, and especially to develop technology to reach the most vulnerable and underserved members of society. Our faculty and students are driven to excel in this field to bring about change in healthcare, here in the heart of Silicon Valley, and around the world. If this describes you, we encourage you to join us in this exciting adventure.
Preparation: All admitted students who do not have previous programming experience are encouraged to complete an online introductory tutorial to programming in Python and R. We recommend that you familiarize yourself with basic Python R programming concepts through one of many online tutorials. The (free) Python and R tutorials at www.datacamp.com are very good.

No, applicants to the MS DHI program are not required to take the GRE. However, students who feel that strong GRE scores may provide evidence of academic ability that is not reflected in grades are encouraged to submit GRE or MCAT scores. Students' entire record of achievements, in and outside of the classroom, will be considered.

Three to four weeks upon submission of a complete application.

Yes, we will find practicum opportunities for all students and will attempt to match the student's interests to the opportunity. Some are paid, some are not. This is completely up to the particular internship host.

Excellent. Our graduates are working in many prestigious medical centers and companies, including Genentech, UCSF Medical Center, Sutter Health, Kaiser Permanente, and many others. Some students have gone directly to doctoral level programs, including MD/PhD programs in which our graduates were given full credit toward the PhD for their MSHI degree from USF.

You should explore the American Medical Informatics Association web site (www.amia.org), which is rich in information about health and biomedical informatics. The application of "artificial intelligence" to medicine is decades old and has been around much longer than the current analytics craze. With the large-scale adoption of Electronic Medical Records (EMRs), the application of computational methods to clinical decision support, evidence based practice, drug trials, and, especially, bioinformatics in genomics and personalized medicine are certain to continue growing rapidly.

25 new students during Fall.

No, your background makes you a strong candidate for leadership positions in health and biomedical informatics after you receive deep training in the field. We designed our program to give solid background in healthcare, informatics, appropriate computer science and specific specialty fields so that people with backgrounds like yours will be well-suited for positions in health informatics. You will also work with clinicians - nurses, physicians, psychologists, for example - learning from their experience while sharing your experiences with them.

Students pursuing an Executive Certificate in Clinical Informatics will likely fall into one of several groups:

Clinicians, such as nurses and physicians, who want a rapid and deep immersion in the field in order to move into clinical informatics or nursing informatics positions in hospitals or medical centers where they already work.
Computer science or engineering students with strong quantitative backgrounds who work with, or would like to work with, health data or systems. The certificate will give them the specific knowledge of health data that they need to move into leadership positions as health data scientists.
Hospital administrators or executives who oversee departments that include clinicians and IT people. Our certificate program will enable them to speak the language of all these groups.
Those who would like as much training in health informatics as possible, but are unsure if they can commit to a full master's program. The certificate allows them to get started and decide later how far they would like to go.
Someone planning to apply to medical school, a graduate program in nursing or another clinical field, or a PhD program in a field related to health and biomedical informatics. The Certificate program enables these students to strengthen their knowledge and resumes.

Yes, the MS DHI program has many partnering organizations. These include many local health organizations, companies, and nonprofits. A sampling of organizations where our graduates have worked as data analyst or informaticists include:

Kaiser Permanente
San Francisco General Hospital
UCSF Medical Center
Cedars-Sinai Medical Center
Genentech
Boston Children's Hospital
Intelligent Medical Objects (IMO)

The MS DHI program is also actively involved with several societies. These include:

AMIA – The primary professional organization for all professionals in the field. Our faculty are active, enabling them to stay abreast of this rapidly evolving field. We will also seek professional certification for our program when AMIA releases its standards in 2014 for professional master's programs in health and biomedical informatics.
IMIA – The international parent organization for AMIA. We will pursue professional certification for International Health Informatics programs as well.

Please note that tuition rates and fees are subject to change and more information can be found about tuition and graduate student fees on the University Tuition and Fees Schedule. In addition to tuition there are fees for graduate students including mandatory health insurance (Fall/Spring), Associate Graduate Students of USF (AGSUSF), and an applicable fieldwork fee per practicum course and required malpractice insurance fee per practicum course.

Yes, USF offers substantial financial aid. US citizens and permanent residents are eligible for $20,500 in federal loans per academic year. You can apply for Graduate PLUS loans to make up the reminder of the cost.

Yes, USF's Digital Health Informatics program is fully accredited by WASC, the Western Association of Schools & Colleges.

Yes, the MS DHI program is a designated STEM program (science, technology, engineering, and math). Employers are known to value employees with a STEM designated education. Eligible international students may apply to work in the United States for additional time via the Optional Practical Training (OPT) benefit and OPT STEM extension.