Engaged Learning
Where Can Your Curiosity Take You
My career plan was to be a Special Education teacher; however, in my junior year at Rutgers University, working at a student teaching opportunity, I realized that education was not my path.
Image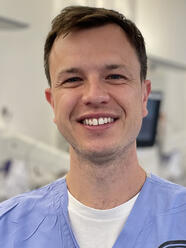 Shortly after graduating with a Psychology degree from Rutgers, I underwent an emergency appendectomy. During my hospital stay, I experienced impeccable nursing care and saw a clearer lens into nursing. After the medical experience, I decided to pursue a nursing degree while working as a medical assistant at Morristown Medical Center, a Magnet hospital in New Jersey.
After obtaining my nursing degree, I worked as a Medical/Surgical RN for two years, then transitioned into a perioperative unit at Morristown Medical Center. My curiosity in digital solutions in healthcare started during this time in the perioperative unit. I was chosen as an Epic (a healthcare software) superuser and trained colleagues within my unit and other hospital colleagues in affiliated hospitals. Through the one-year Epic trainer appointment, I became attuned to how crucial an effective EMR tool can drive clinical productivity, data collection, and patient communications- which all ultimately yield to staff and patient satisfaction.
When I moved to the San Francisco Bay Area in 2019, I began working as a pre-op and recovery nurse in an ambulatory center. Immediately, I noticed many workflow and business model differences from my experience at a larger hospital. Most notably, I realized ambulatory centers today are still using paper charting. When I inquired about adopting a digital EMR, the surgery center leadership expressed their concerns about its financial cost and the adaptability of the products on the market for smaller surgery centers, so it could be more troublesome than helpful. The concerns were valid, yet I still believed that their needs could be met with the right product. With this strong curiosity in mind, I decided to pursue the MS in Digital Health Informatics program at USF in fall of 2021. I found the program to be competitive with an attractive curriculum, and I especially appreciated that it was friendly and flexible to part-time students like myself who have to also balance a full-time job and a family.
As I was starting the Master's program in Digital Health Informatics, I transitioned jobs and joined the inaugural team at the UCSF Outpatient Surgery Center as a perioperative RN. At the UCSF Outpatient Surgery Center, I experienced the unique benefit of having digital charting in a small-scale outpatient surgery center, all while accessing the resources within the larger UCSF system. My first-year coursework at USF allowed me to gain a deeper understanding of health informatics on the local and global levels and connected my professional experience with scholarly theories. Lastly, I believe the USF program helped me be selected as one of ten Informatic Champions at UCSF, a competitive inaugural program offering UCSF RNs with concrete and hands-on experience in the field of nursing informatics. The Informatic Champions program aims to increase the footprint of nursing informatics at UCSF and improve frontline nursing staff's engagement in Clinical Information Systems and Epic change processes.
Over the last six months as an Informatic Champion and using this unique experience to fulfill my project requirement in the MS in Digital Informatics program with Professor Freddie Seba, I've developed a feature for my unit in Epic called Unit Map. Unit Map is a physical layout of the perioperative unit that can be accessed individually by staff and can also be seen on the main status board in the nursing station. For example, staff in the surgery center can see which patient is in what room, their operation status, and their care team in real-time. Having a Unit Map eliminates confusion about patients' location. Unit Map went live at the Outpatient Surgery Center and is continuously being implemented in other surgery units within UCSF. Another project in development is the modification of perioperative nurse navigators within Epic, specifically for Electroconvulsive Therapy (ECT) and liver biopsy procedures. These two procedures done by the Outpatient Surgery Center require minimal charting compared to general surgeries, yet their nurse charting in Epic is currently the same. This new update will increase workflow and allow nursing staff to focus more on patient care by reducing cumbersome charting.
I am grateful for the academic journey at USF in the MS in Digital Health Informatics program. I have gained coding knowledge and a deeper understanding of what goes into the backend of digital charting. More importantly, the program allowed me to make valuable connections with instructors, classmates, and industry professionals in the digital health informatics field. I look forward to continuing the program part-time to obtain a professional role as a nurse informaticist in the near future.