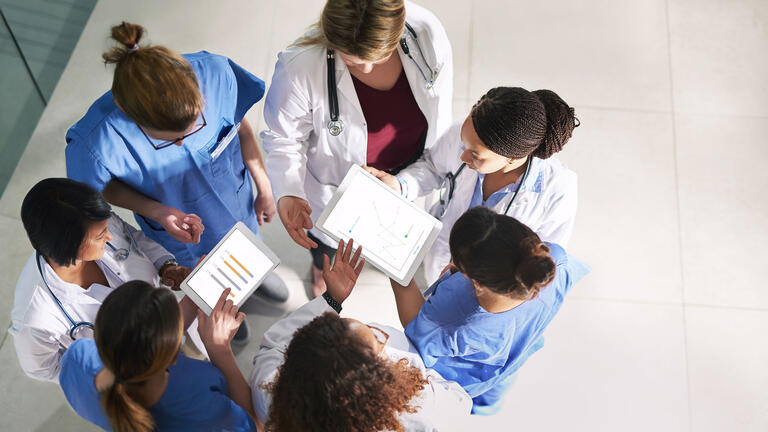 Digital Health Informatics, MS
Admissions
Applicants must have earned a baccalaureate degree from an accredited program and show evidence of excellent academic achievement and preparation for a rigorous graduate program. Our current students come from diverse academic backgrounds. Some enter the program with clinical or biomedical science backgrounds, others with more computational or statistical backgrounds. Admission to the MS in Digital Health Informatics (MS DHI) program is based on a holistic appraisal of your ability to successfully undertake master's study and of your contributions to the discipline.
Application Materials
All application materials should be uploaded through the online application form. The School of Nursing & Health Professions Office of Graduate Admissions does not accept mailed materials.
Applicants can check their application status online or by contacting the School of Nursing & Health Professions Office of Graduate Admissions at sonhpadmissions@usfca.edu.
Application Requirements
A completed online application form and fee.
A Bachelor's degree is required. While no specific undergraduate degree is required, candidates with the following education/experience may be appropriate: administration, business, clinicians, physicians, health care professionals and technologists in practice or in school (undergraduates/graduates, including MBA and MPH programs) health care product/project management/marketing, business, administration among others.

Alternatively, work experience in digital health product development, product marketing, data analytics, information technology (IT) entrepreneurs, and intrapreneurs may find this program very useful.
Unofficial transcripts from all colleges/universities attended. Official or unofficial transcripts should be uploaded through the online application form. Transcripts must reflect the name of the institution attended, degree earned, grades earned, and GPA. Applicants should ensure that all transcripts are readable once uploaded. Submission of official transcripts is ONLY required for admitted students who decide to enroll. For non-U.S. transcripts, applicants please submit translated transcripts.
Recommended grade point average of 3.0 or higher.
2 letters of recommendation preferably from academic references or references in industry or government who are familiar with the applicant's professional accomplishments. At least one should attest to the applicant's quantitative abilities. In the online form, enter the names and e-mail addresses for recommenders. They will receive an e-mail from USF with instructions to upload their letter. Please note that letters of recommendation must be on letterhead and signed by the recommender.
Professional résumé
Knowledge of and commitment to healthcare: Previous coursework or work experience in clinical healthcare, biomedical sciences, or public health is viewed very favorably. We welcome physicians, pharmacists, nurses, and other health professionals to our program. Pre-medical and pre-health professions students have found that our program a valuable stepping-stone to PhD programs, Medical School, or graduate healthcare fields.
Knowledge of Python computer programming.
Statement of career goals and professional aspirations. Please respond to the prompt: "Why do you want to pursue a graduate program in Health and Biomedical Informatics?"
For international students only: For those students seeking an F1 visa, USF is not able to issue an I-20 to a prospective student before they have met all criteria for full-admission. International students are required to submit the following:

Certificate of Finances
Copy of passport
TOEFL, IETLS, or PTE English language proficiency exam
Please refer to the International Graduate Student page for test score requirements and additional information

The University reserves the right to cancel cohorts due to unforeseen circumstances or low enrollment.