Diversity
Health Informatics: Data With a Purpose
A Conversation With MSDHI Student Shuhao Zhou
Image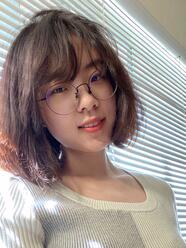 Shuhao was born and raised in China. She finished her BS in Sociology in China, hoping and dreaming of becoming a doctor or a veterinarian, but her talents and experiences soon inspired a new journey. Her parents, also in the health professions, motivated Shuhao to consider something more health science related, like public health. In 2018, Shuhao joined the public health program at the University of Michigan with a concentration in healthcare administration. Still looking for more, Shuhao started taking more data-oriented classes outside her program.
After her masters in public health, Shuhao came to California and started working for a health information exchange (HIE) company. As a business fellow, she used her data analytics skills to help with marketing initiatives. This experience helped her realize she could actually go further.
Shuhao has a talent and inclination for a more technical and data-oriented role. Still, she also wants to make a difference and deepen her understanding of the impact of health and health care. "Yes, I want to know how my work changes people's lives," shared Shuhao.
Mixing dreams, purpose, talent, and location opportunities, Shuhao joined USF's Digital Health Informatics program and, from day one, has become a significant cohort member. "I wanted to join a program that really understands the need of international students regarding their career development and provides support accordingly. Silicon Valley has so much to offer for digital health informatics students like me."
As people say, data used in other traditional industries is like a home puppy, whereas health care data is like a street dog. Health care data is messy, said Shuhao. The situations and the methods used to collect the data are not always ideal. Health data is not always trustworthy, and you need to learn how to handle it.
Currently, in her internship, Shuhao is able to bring other voices and her critical thinking skills into data analysis with a health equity lens. "In my last project, I have been adding the US News County Health rankings to consider not only the disease perspective but also include things like education, housing, and socio-economic factors that influence the outcomes. I'm glad I am in a company that values health equity," said Shuhao.
For Shuhao, what makes a difference is her business understanding. She acknowledges that after years of experience, people reach the same level of "expertise." Then what matters is how you understand the business, and in this case, the health care system.
Shuhao's pearl of wisdom for all of us is: Don't be ashamed of changing your goal. Listen to yourself, your talents, and search for where you can make a difference.