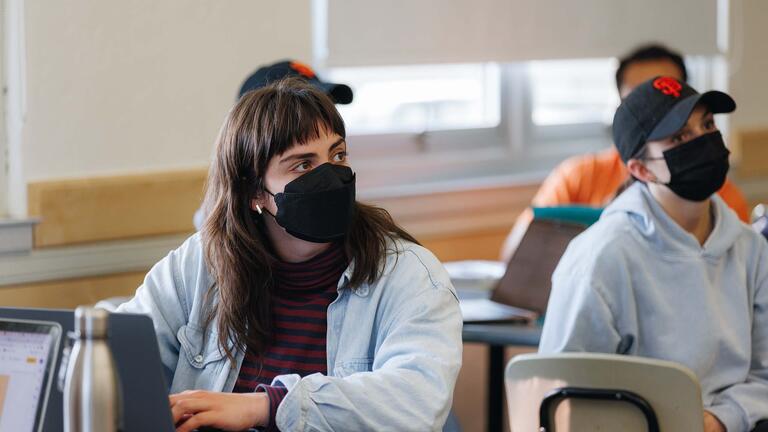 Teaching with Credential, MAT
Teacher Apprentice Program In Progressive Education
The USF and Presidio Hill School Teacher Apprentice Program, a partnership between the University of San Francisco School of Education and Presidio Hill School, seeks to prepare highly-effective teachers that inspire student curiosity, critical thinking and cooperative learning.
The Teacher Apprentice Program in Progressive Education is grounded in the conviction that both students and teachers learn by doing. Thus, the most effective way of learning to teach is through teaching itself. Over two years, apprentices work in Presidio Hill School's elementary classrooms under the supervision and support of a mentor teacher. Graduates earn a California Multiple-Subject teaching credential and a Master of Arts in Teaching from the University of San Francisco. Apprentices receive a $25,000 stipend each year, as well as ongoing classroom support.
About Presidio Hill School
Located in San Francisco, Presidio Hill School is the oldest progressive independent school in California. Founded in 1918 as Presidio Open Air School, it has for one hundred years based its pedagogy on the seminal work of John Dewey and other progressive educators. Staying true to its child-centered, creative ways, it has watched current educational research validate its methods of teaching and learning. A small school of just over 200 students, the intimate setting guarantees that all children are well known and nurtured in their interests and needs.
Application Deadline
Program beginning Fall 2023: March 1, 2023
Applications may be accepted after the priority deadline on a space available basis.
Progressive Education
Student engagement is at the heart of progressive education. Through a child-centered curriculum that encourages students to be creative and collaborative, progressive education fosters classrooms committed to experiential learning and global stewardship.
Eligibility Requirements
Candidates must have a strong interest in progressive education and the desire to learn and implement progressive practices in teaching
Candidates must apply and be accepted in to the USF Teacher Education program
Program open to Multiple Subjects credential candidates on USF's San Francisco campus only
Students participating in the Urban Education and Social Justice program or the Bilingual Authorization program are ineligible to participate in the USF & Presidio Hill School Teacher Apprentice Program.
Student Testimonials
The Presidio Hill School Teacher Apprenticeship Program has positively constructed my vision for teaching. For the last two years I have had the opportunity to learn and work with exemplary mentor teachers in upper and lower elementary grades. I have been a part of a community of passionate educators that develop inventive curricula that is both exciting and progressive, and I have seen students grow in their understanding of themselves and the world. I am grateful for my experience at PHS and am leaving feeling confident about my future as a teacher."
Jack Ostrand, current apprentice
"The Teacher Apprentice program has given me lots of hands-on action, with welcoming teachers.  I am able to witness different methods of teaching to learn from everyday. Also lots of my coursework is reflective outside of the walls of USF and inside these classrooms. This experience has helped me piece together how I would like to have my future classroom."
Vicki Cho, current apprentice