Teaching Reading Master's Program with Credential, MA
Students
Mona Abdallah
Student
Teaching Reading MA with Multiple Subject Credential
Why did you choose USF?
I chose USF specifically for the MATR program and Dr. Helen Maniates. When I initially looked into graduate programs in teaching I had not considered becoming a reading specialist. I attended one of Dr. Maniates' information sessions at USF and she succinctly highlighted the need and necessity for teachers to have a solid understanding of literacy practices, a diverse array of tools to address students' different needs, and the importance of staying current on the latest reading research. To my knowledge, USF is one of the few schools in the Bay Area that offers a program that combines a master's, a teaching credential and a reading certificate. MATR is unique and what I have learned so far has been invaluable.
What has been a highlight of your program or Usf so far?
My cohort within this program has been amazing, there are truly some very special people here who are going to be amazing teachers. All of my professors thus far have been immensely interested in our lives and experiences in this program. I not only feel that I benefit from their academic expertise, but also from their personal support.
What advice do you have for prospective students?
Know that this program is intense, and be ready to fully immerse yourself in the work and the time commitment. While the first year is hard and demanding, achieving a balance becomes much easier during the second year and the reward of being in a classroom and working with young students is immeasurable.
What is your favorite san francisco (or Bay Area) restaurant?
As a former chef in SF it is really hard for me to pick one place as my favorite. There are so many talented and dedicated chefs here that we are really lucky to have so many outstanding choices. That said, if I had to pick a neighborhood spot, I would go with Nopalito. An evening with a bunch of friends would be at Bar Tartine, and a truly special evening at Frances. Not to mention all the incredible pho and dim sum places in the Sunset, my neighborhood, where I go for some comfort food on a cool, foggy evening.
Mona is an SOE Student Ambassador. Contact her to get the current student perspective: mabdallah@usfca.edu
Family Literacy Night
Students in the Teacher Education Department's Early Literacy Class partner with the Booker T. Washington Community Service Center to host a family literacy night.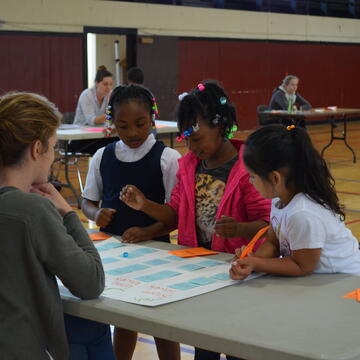 2130 Fulton St.
San Francisco, CA 94117
Hours
Monday–Friday
8:30 a.m. – 5 p.m.