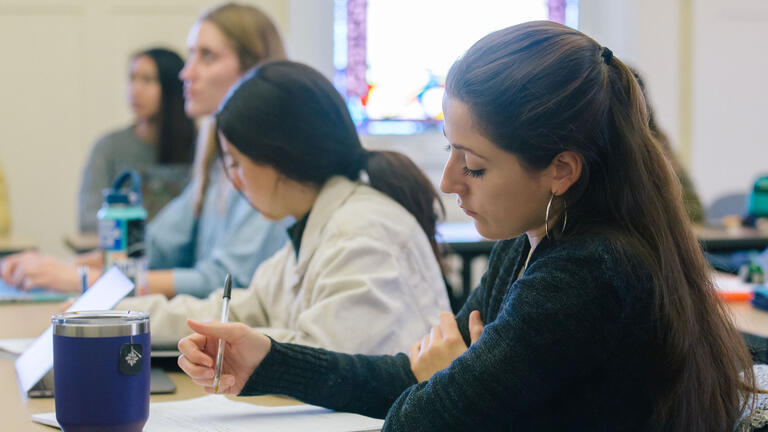 Catholic Educational Leadership, EdD
Optional Minors
School of Education
Doctoral students who wish to complement their major coursework with a subject from outside of their program may explore minors as a way of doing so. Doctoral students in the School of Education may pursue a minor within a SOE department other than the one to which they were admitted.
To declare a minor, students are to obtain approval from their major program advisor as well as an advisor in their proposed minor area and complete the Change in Academic Program form which is to be submitted to the Dean's Office for approval.
International & Multicultural Education Minor
The International and Multicultural Education (IME) program is dedicated to understanding formal and informal education within diverse sociocultural, linguistic, political and economic contexts. Based on principles of equity, social justice, and human rights, the program critically addresses the realities of education within and beyond the borders of public schooling in the United States and around the world. 
Students outside the IME Department are able to develop a four-course sequence of IME courses in consultation with the Department Chair that fulfills the minor in IME requirements. Coursework can focus on issues of human rights; racial justice; or language and culture in education. Alternatively, students may opt for a sampling of courses across the IME curriculum that introduce key thematics in the field. Please note: the within-department concentrations of "Human Rights Education" and "Language and Culture" are only available to doctoral students officially enrolled in the IME Department.  
Contact the Department Chair or Program Assistant (ime@usfca.edu)
Organization & Leadership Minor
The Organization and Leadership (O&L) program is committed to providing students with knowledge, skills, and tools necessary to become leaders in educational settings and community contexts. We believe in leaders who are motivated to transform themselves, organizations and institutions by developing skills to a) understand and critique systems of power and b) reimagine, create, and lead organizations based on principles of justice, democratic participation, and service. 
Students wishing to minor in O&L should have experience in a professional leadership role and be willing to take O&L foundational courses. Please reach out to the department chair and arrange a meeting to review the program requirements. 
Contact Dr. Jane Bleasdale (jbleasdale@usfca.edu)
Learning & Instruction Minor
Learning and instruction (L&I) is the application of psychological principles and concepts to solve problems in educational and training settings. Our program examines individual differences, cognitive and social development, learning and motivational theory, instructional design, curriculum delivery, classroom management, and assessment through research and hands-on experience.
Learn more about the minor requirements and program learning outcomes by visiting the course catalog. 
Contact Dr. Kevin Oh (koh2@usfca.edu)
Educational Technology Minor
The Educational Technology Program (ETK) is designed for working professionals who are interested in both creative exploration and practical application of digital technologies. Our focus is always on giving students tools and strategies that they can use right way in their own learning environments.
Contact Dr. Xornam Apedoe (xapedoe@usfca.edu)