Campus Life
Record Numbers of Applicants Again Apply to USF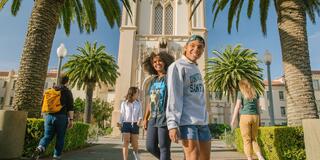 USF has set a new record for the most applications in its history, with a 5 percent increase over last year's record numbers.
USF received 23,069 applications for admission to the fall 2022 entering first-year class.
"You know what these numbers really are? They are 17-year-olds' dreams," said April Crabtree, interim vice provost for strategic enrollment management.
The university's Jesuit mission, its academic programs, its location in San Francisco, and its commitment to diversity, equity, and inclusion are appealing to applicants, Crabtree said.
USF's undergraduate transfer applications are up, and the record applications from both high school seniors and transfer students are from domestic and international students.
Among the first-year applicants, there is an increase in Black-identified students, from 10.9 percent of USF's applicant pool last year to 11.3 percent for fall 2022.
Meanwhile, there was a growth in applications from Washington, Oregon, the Midwest, the South, and the West.
Some areas saw spikes in applications. There were increases for arts and humanities (9 percent), engineering (32 percent), sciences (15 percent), and social sciences (7 percent).
Science applicants favor computer science, data science, and kinesiology.
One area that saw a drop is undergraduate applications to the School of Nursing and Health Professions, a trend that other colleges and universities are seeing in the wake of the COVID-19 pandemic.
Graduate applications for fall, meanwhile, at 5,699, are at a five-year high. There are increases in applications to the School of Law (9 percent), School of Management (34 percent), and School of Nursing and Health Professions (15 percent). The growth in management applications is mainly in these programs: information systems, marketing intelligence, and the full-time MBA, which has received more than double the number of applications at this time last year.
"We're excited that USF has a story that students want," Crabtree said.
Image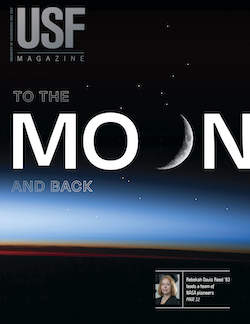 Featured in USF Magazine
This USF News story was published in USF Magazine, where you can find feature stories about university life, alumni Class Notes, and information about events at USF.