Passion for Justice
Justice Through Art and Literature
People within the USF community gathered to honor Dr. Martin Luther King Jr, through art and literature.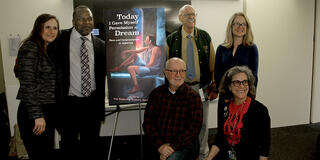 Art, literature, and about 20 people completely filled a University of San Francisco atrium honoring Dr. Martin Luther King Jr. and those who continue his struggle for justice, at a reception celebrating an artwork dedication and book launch.
"This gives us the opportunity to think of part of our (USF) mission, which is justice, inclusion, and diversity," said Erin Brigham, Director of the USF Lane Center, at the reception Wednesday evening.
Artwork Dedication
Artwork titled I may not get there with you (present within the threshold) was dedicated at the event. The seven by five-foot painting fits on a wall near 40-foot tall windows of a Malloy Hall room along Tarantino courtyard.
"The work is inspired by King's 'I've Been to the Mountaintop' speech, which he gave 50 years ago," said San Francisco artist George Pfau at the event, noting that the artwork depicts video scenes of the April 3, 1968 speech as well as King in the hospital after being stabbed in 1958, "within a 'tip of the blade' from death."
Pfau donated the painting to the USF School of Management and thanked ethics professor and Lane Center advisory board member Kimberly Rae Connor as his teacher and mentor.
Connor explained, the event had an impressive collaboration and inclusion across many USF departments as well as the community outside of school programs.
Book Launch
A book was released at the reception as well, co-edited by Connor and Brigham, titled Today I Gave Myself Permission to Dream: Race and Incarceration in America. The book includes writing and editing of USF faculty, staff, and students. Its publication is coordinated by the Lane Center Series inspired by an annual roundtable group which "explores intersections of faith and social justice."
One of the book's authors is School of Management Business Administration '12 and MS Organization Development '14 alumnus Reggie Daniels. He expressed his deep appreciation for those that collaborated and were part of the process to produce the roundtable discussion "that addresses the issues of folks who have been previously incarcerated or impacted by mass incarceration," and incorporates the Jesuit values and university mission of changing the world from here.
Dr. King's speech ("I've Been to the Mountaintop") inspired me to bring that practicality into my life and the life of others—it is the substance of success,"
Reggie Daniels MS Organization Development '14
Co-Author Today I Gave Myself Permission to Dream: Race and Incarceration in America
"When I first came to USF, people supported me and believed in me, as they still do till this day," Daniels said. At the reception, he shared an excerpt of a play he wrote and described how it influenced his participation in an Arts in Corrections program. He explained the play was his first introduction to USF before he even became a student. Daniels had written it the year before it was performed, on Father's Day, as an ode to his son and "in the spirit of Dr. King's dream being applied to more contemporary circumstances and having a more literal application to what's going on in the community."
Fr. Stephen Privett S.J., attended that historic performance and ultimately met with Daniels—to which Daniels explained he felt was Fr. Privett giving him permission to succeed at USF. For Daniels, he said that during his USF experience his drive has been "to break down the stigma of people who have been formerly incarcerated." Daniels is currently in the Doctoral Degree Program in Education at USF, and teaches two classes at the university.
Image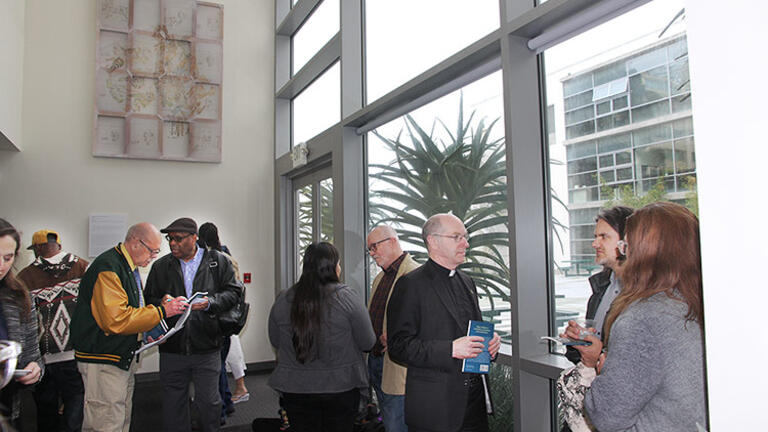 Another of the book's authors is MA Public Administration professor emeritus Larry Brewster. He welcomed people to the reception in memory of Dr. King and "a caring, just, and more peaceful world." For more than a decade, Brewster has researched, lobbied, and testified to the life-changing effects of art education for people who are incarcerated. Brewster's said his published research is used to this day as a cornerstone of government funding for Arts in Corrections programs across the United States.
The USF School of Management and The Joan and Ralph Lane Center for Catholic Social Thought and the Ignatian Tradition jointly sponsored the reception. It was one of many events in the USF community this week commemorating the 50th anniversary of Dr. King's assassination.
The skeletal-like configuration of Pfau's work is indicative of the artist's interest in human anatomy and highlights the duality of mankind as both elusive soul and fragile body. King served as the beating heart of the Civil Rights Movement while simultaneously representing the delicate balance between vulnerability and power; perception and reality; life and death. I may not get there with you (present within the threshold) exemplifies the complexity of public personas and serves as a reminder to consider what lies beyond the surface and the ultimate cost of freedom."
KELLY MILAN MUSEUM STUDIES '17
From THE PAINTING'S DESCRIPTIVE PANEL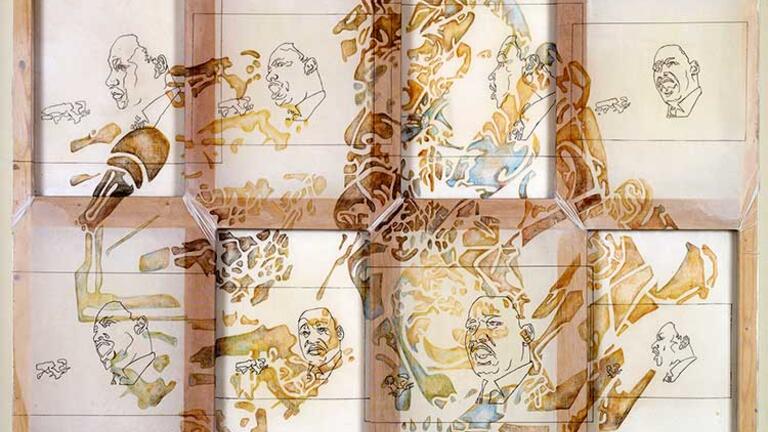 By Lonny Wysard and A. Baker