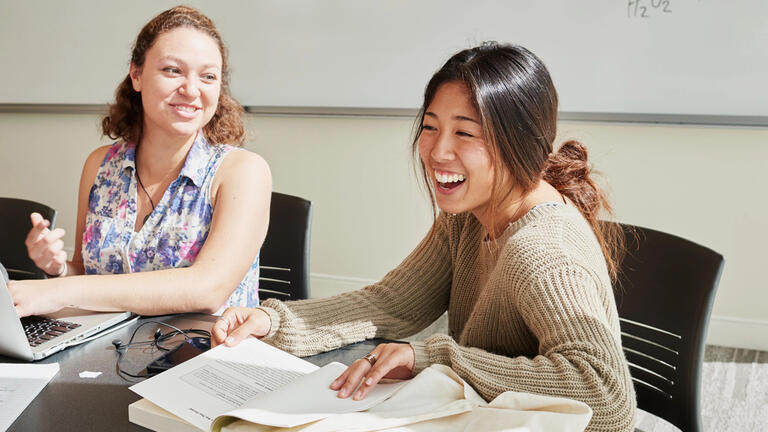 Psychology, BA
Research Labs
Students often participate in faculty research as student research assistants. We offer a wide variety of research programs.
Spirituality and Health Lab
Dr. John Pérez's primary research interest is exploring how spirituality and religiousness influence mental and physical health across the lifespan.
Cognition and Emotion Lab
Dr. Marisa Knight's research interests are focused on the interplay between motivation, emotion, and cognitive functioning across the lifespan.
Family Research Lab
Dr. Shirley McGuire's research involves using a biocontextual approach to study children's social and personality development and adjustment during middle childhood and adolescence.
MORE ABOUT THE FAMILY RESEARCH LAB
Social Cognition and Judgment Lab
Dr. Saera Khan explores how individuals' motivation and their processing of social information act to influence their use of stereotypes when judging others.
Foster Care Research Group (FCRG)
The FCRG is directed by Dr. Saralyn Ruff, a full-time faculty member in Psychology. Dr. Clausen, who founded the lab in 2000, serves as a consultant to the lab.
MORE ABOUT FOSTER CARE RESEARCH GROUP
Mass Emotion and Intergroup Conflict Lab
Dr. Violet Cheung's research focuses on anger, fear and anxiety in concrete contexts such as terrorist attacks, cyber insecurity and the migrant crisis.
Acculturation and Immigrant Health Research Lab
Dr. Kevin Chun's research and publications focus on processes of adaptation and their relation to health and psychosocial adjustment for Asian American immigrants and refugees.
Social Reasoning in Childhood (SeaRCH) Lab
Dr. Aline Hitti's research focuses on developing concepts of fairness, justice, social inequalities, and other's well-being when it comes to social exclusion of peers and decisions about peer relationships.
MORE ABOUT SOCIAL REASONING IN CHILDHOOD
Learning and Reasoning Lab
Dr. Ed Munnich's research focuses on whether, and to what extent, statistics influence people's beliefs and preferences about personal and public policy issues.
Aging and Diversity Research Lab
Dr. Lisa Wagner's research has examined both ethnic/racial stereotypes and age-related stereotypes with her most recent research examining stereotype threat and older adults.
Intersectionality & Social Issues Research Lab
Dr. Ja'Nina Garrett-Walker's utilizes quantitative and qualitative methodologies to examine the intersections of multiple identities; specifically racial, religious and sexual identities. She is most interested in the ways in which Black LGBT young adults navigate and negotiate social marginalization in their multiple communities through negative religious rhetoric, racism, homophobia, transphobia, and heterosexism. Dr. Garrett-Walker's 2nd line of research seeks to raise student, faculty, and staff awareness around social inequalities and privilege. She has become increasingly interested in the ways in which shared educational privilege impacts colorblind racial ideologies and privilege awareness (i.e., white, male, class).