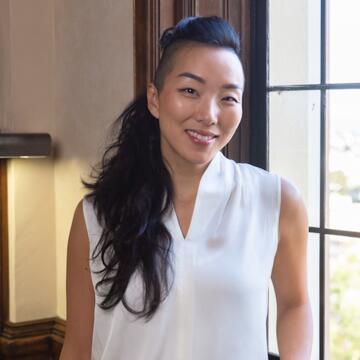 Joyce P. Yang
Assistant Professor
Biography
Joyce P. Yang, PhD is a licensed clinical psychologist who earned her doctoral degree as a clinical scientist from the University of Washington. She received her postdoctoral research training in the Advanced Fellowship Program in Mental Illness Research and Treatment at Stanford University in the Department of Psychiatry and Behavioral Sciences and the National Center for PTSD (Post-traumatic Stress Disorder) at VA Palo Alto Health Care System. She completed her predoctoral clinical internship at VA Palo Alto Health Care System, her MA in experimental psychology at Boston University, and her BA in psychology and biology at Washington University in St. Louis.
Dr. Yang's dissertation work to develop and pilot test a brief intervention to reduce distress for individuals recently diagnosed with HIV in China was funded by a Ruth L. Kirschstein F31 National Research Service Award from the National Institute of Mental Health. Dr. Yang directs the REACH Lab which uses community-based participatory research methods to examine and address health disparities and mental health needs of populations of color. She is interested in how experiencing chronic race-based stress and trauma, especially in the form of discrimination and injustice in healthcare settings, affects development of trauma symptoms, PTSD illness, and treatment course.
Education
Postdoctoral Fellowship, Stanford University, 2019
PhD, Clinical Psychology, University of Washington, 2017
MA, Experimental Psychology, Boston University, 2008
AB, Psychology and Biology, Washington University in St. Louis, 2007
Selected Publications
Yang, J.P., Do, Q., Nhan, E.R., & Chen, J. A. (in press). A mixed methods study of race-based stress and trauma affecting Asian Americans during COVID. Clinical Psychological Science.
Do, Q.A., Yang, J.P., Gaska, K., Knopp, K., Scott, S. (2022). Centering Asian American women's health: Prevalence of health care discrimination and associated health outcomes. Journal of Racial and Ethnic Health Disparities.
Yang, J.P., Nhan, E., & Tung, E.L. (2021). COVID-19 anti-Asian racism and race-based stress: A phenomenological qualitative media analysis. Psychological Trauma: Theory, Research, Practice, and Policy.

Tung, E.L., Peek, M.E., Rivas, M., Yang, J.P., & Volerman, A. (2021). Association of neighborhood disadvantage with racial disparities in COVID-19 positivity and outcomes in Chicago. Health Affairs, 40(11), 1784-1791.

Yang, J.P., Simoni, J., Dorsey, S., Lin, Z., Bao, M., Sun, M., & Lu, H. (2019). Reducing distress and promoting resilience: A preliminary trial of a CBT skills intervention among recently HIV-diagnosed MSM in China. AIDS Care, 30(sup5), s39-s48. 

Smith, N., Voisin, D., Yang, J.P., & Tung, E. (2019). Keeping your guard up: Hypervigilance among urban residents affected by community and police violence. Health Affairs, 38(10), 1662-1669.

Tung, E., Hampton, D., Kolak, M., Rogers, S., Yang, J.P., & Peek, M. (2019). Racial and ethnic disparities in geographic access to trauma care: A multi-method study of America's urban trauma deserts. JAMA Network Open, 2(3): e190138.