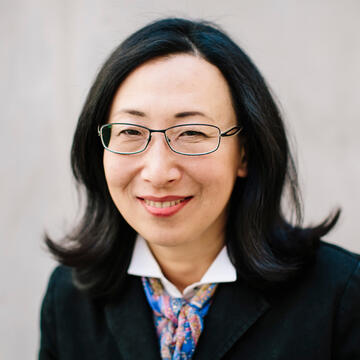 Department Chair
Full-Time Faculty
Biography
Dr. Violet Cheung (ORCiD 0000-0003-2706-025X) is a co-chair and a professor in the department of psychology at the University of San Francisco. Her research on mass emotions started after 9/11 while she was completing her doctorate degree at UC Berkeley. She examined angry responses to the terrorist attack and how the public sentiment precipitated the U.S. to go to war. She now focuses on anxious and fearful responses in the new contexts of cyber insecurity, the migrant crisis, and the COVID pandemic. She also uses big data analytic tools to examine public sentiments on social media. Her research was funded by the American Psychological Association and her first-author publications appeared in journals such as Political Psychology, Emotion, and Current Opinion in Psychology.
Expertise
Anxiety, fear, and anger
Public sentiments
Big data analytics
Research Areas
Emotion processes
Threat response
Sentiment analysis
Appointments
Past-President, Division 48, American Psychological Association
Board Member, Society for Terrorism Research
Associate Editor, Behavioral Studies of Terrorism and Political Aggression Journal
Education
UC Berkeley, PhD in Psychology, 2007
Awards & Distinctions
Post Sabbatical Merit Award, University of San Francisco, 2020

Invited Address, American Psychological Association Annual Convention, 2019

Lynn Stuart Weiss Lecture Award, American Psychological Foundation, 2019

Presentation Award, International Conference on Conflict and Aggression, 2013

Young Investigator Award, XIXth world meeting, International Society for Research on Aggression, 2010
Selected Publications
Cheung-Blunden, V., Dechesne, M., Miodus, S., Dixit, S., & Hyun, R. (in press). Sources of anti-immigrant sentiments in Western democracies: A contextual approach. Current Opinion in Psychology. 
Cheung-Blunden, V., Sonar, K., Zhou, E., & Tan, C. (2021). Foreign disinformation operation's affective engagement: Valence versus discrete emotions as drivers of tweet popularity. Analysis of Social Issues and Public Policy, 21(1), 980-997.

Cheung-Blunden, V. (2020). Situational insecurity versus entrenched ideologies as the source of right-wing voters' anti-migrant sentiment on both sides of the Atlantic. Journal of Applied Social Psychology, 50(6), 337–350.

Cheung-Blunden, V., Cropper, K., Panis, A. & Davis, K. (2018). Functional Divergence of Two Threat-induced Emotions: Fear-based versus Anxiety-based Cybersecurity Preferences. Emotion, 19(8), 1353-1354. 

Cheung‐Blunden, V., & Ju, J. (2016). Anxiety as a barrier to information processing in the event of a cyberattack. Political Psychology, 37(3), 387–400. 

Cheung-Blunden, V., & Blunden, B. (2008). The emotional construal of war: Anger, fear, and other negative emotions. Peace and Conflict: Journal of Peace Psychology, 14(2), 123–149.