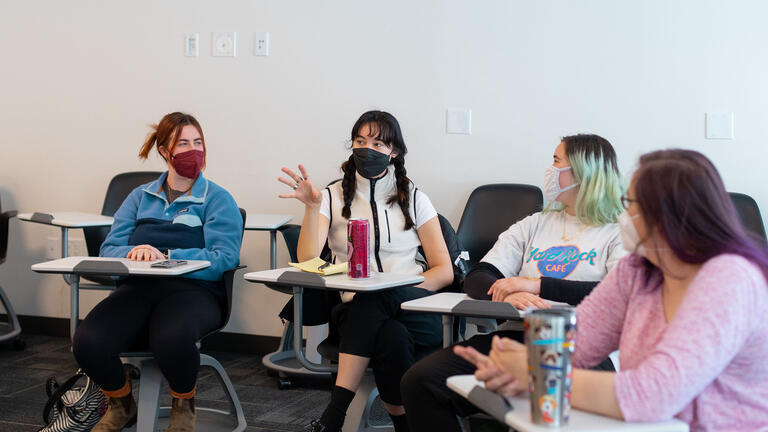 PUBLIC HEALTH, MPH
Community & Public Health Practice Concentration
What is Community and Public Health Practice?
The MPH Community and Public Health Practice concentration prepares graduates to address public health issues in local and global settings using evidence-based strategies and working in collaboration with community partners. The concentration has a focus on training health professionals to design and implement community-driven and community-level strategies and interventions.
Students gain skills in project planning and management, including ways to assess community needs and assets, address environmental challenges facing disadvantaged populations, and collaborate with communities to address social determinants of health. Students learn to value and encourage meaningful community participation and engagement in knowledge generation, and to identify and challenge repressive power structures impeding community self-determination. They gain qualitative and quantitative skills in research and programmatic intervention design and assessment, including management of resources and continuous improvement.
Students also may choose electives on topics including maternal and child health, adolescent health, geographic information systems, aging, advanced data analysis, advanced topics in epidemiology, and health systems strengthening.
Learning Outcomes & Degree Requirements
Program Highlights
Open to students with a Baccalaureate degree in any field from an accredited institution.
Option to complete program in San Francisco & online.
The MPH Community and Public Health Practice concentration requires 45 credits to graduate.
Interprofessional training in epidemiology, biostatistics, community and behavioral health, environmental health, public health policy, and management.
Emphasis on practice-oriented skills and competencies to promote population health in collaboration with community partners.
14:1 student faculty ratio allows for you to work closely with your professors and peers in small classes and develop your professional network.
Faculty expertise – Take classes and work with our faculty, who include leading experts in global health, health policy, epidemiology, demography, health program planning and evaluation, community organizing and advocacy, and nursing.
Hybrid Format
Courses are offered in person year round one evening per week over the course of two years. Courses meet in person one week and online the alternating week. Off-site assignments are conducted during the weeks that you're not attending class in person.
Online Format
The online MPH program is primarily asynchronous format, which allows students to complete their studies according to a flexible schedule.
Online coursework is delivered through dynamic and engaging online learning modules and multimedia tools.
Same curriculum pattern as hybrid Community and Public Health Practice concentration.
Concentration Competencies
Students in the Community and Public Health Practice concentration will acquire competencies in the following areas:
Apply qualitative methods to assess community assets for addressing public health and environmental issues.
Analyze how issues of power, race and ethnicity, sex and gender identity, and socioeconomic factors affect the development, implementation, and evaluation of community-based projects.
Develop a research project proposal using mixed methods to address a public health problem affecting a specific community.
Apply participatory project management strategies to improve the quality of programs and services in public health settings.
Identify environmental health risks in vulnerable communities and examine strategies to reduce exposures.