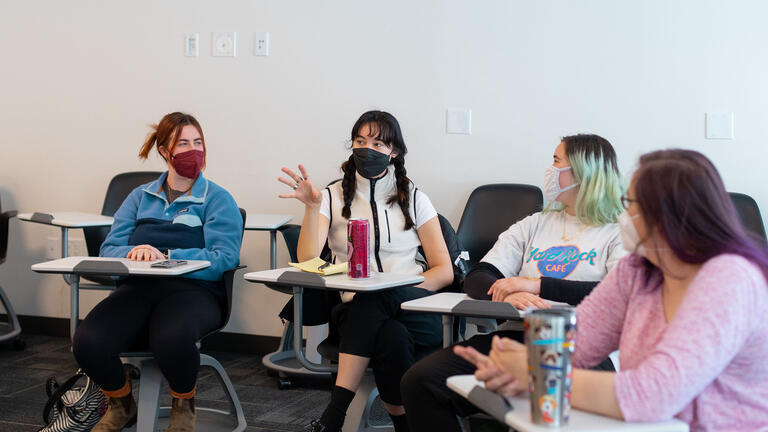 Public Health, MPH
Frequently Asked Questions
Answers to the most frequently asked questions about the MPH program can be found below. If you have further questions about the MPH program or the various program concentrations, please contact us.
According to the World Health Organization, public health refers to all organized measures (whether public or private) to prevent disease, promote health, and prolong life among the population as a whole. Its activities aim to provide conditions in which people can be healthy and focus on entire populations, not on individual patients or diseases. Thus, public health is concerned with the total system and not only the eradication of a particular disease.

A Master in Public Health (MPH) from the University of San Francisco is a two-year program that prepares students to work in a variety of public health-related settings. The mission of the Master of Public Health program is to improve the health of local and global populations, particularly the underserved and vulnerable, through innovative and inspired research, service, and teaching that is grounded in education of the whole person to be a change agent who strives for excellence in all pursuits.

Major advantages include:

Small class sizes allow you to connect with your professors, get to know your peers, and develop your professional networks.
Learn from a distinguished faculty of academics and experienced practitioners who will serve as your professors, advisers, and mentors throughout an academically rigorous program.
Study in areas of California with a long history of advocacy and community outreach. San Francisco is a virtual lab of public health education and health promotion possibilities, and there is no shortage of challenging fieldwork and post-degree employment opportunities in San Francisco, Sacramento, and Orange County.
Put your intellect and values into action in the classroom and through fieldwork placements at local health departments, federal and state agencies, and other nonprofit and non-government organizations (NGOs).
Hybrid and online formats have flexible schedules that maximize your ability to advance your career while working full time.

The program is organized in a cohort model of instruction. Each cohort is made up of approximately 25 students, two-thirds of whom are typically Bay Area health professionals looking to enhance their qualifications or individuals in another field looking to transition into a public health career. During the two years of the program, your cohort will move through the curriculum together – starting and finishing with the same members.

The MPH program only admits during the Fall semester.

The MPH concentrations in Community and Public Health Practice and Behavioral Health are 45 credits and the MPH Health Policy Leadership concentration is 42 credits. Students typically complete in two years. Classes are held year round during the Fall, Spring and Summer.

The Applied Practice Experience (APEX) is a fieldwork opportunity that provides students with practical experience in a public health setting where they can apply the knowledge and skills acquired during the program's didactic courses. CEPH requires that all professional degree students develop competency in basic public health skills and demonstrate the application of these skills through a practice experience that is relevant to the student. The APEX gives students direct, hands-on experience comparable to a career position that would be suitable for someone with an advanced public health degree. Regardless of their concentration (Community and Public Health Practice, Health Policy Leadership, Behavioral Health, or Applied Epidemiology and Population Health Methods), all MPH students at USF are required to complete 250 hours of applied practice that result in the creation of at least two products that fill an identified need with the partner agency where the practice takes place.

Yes, admissions requirements remain the same for all MPH concentrations.

Yes, all program concentrations fall under the CEPH accreditation.

Students enrolled in the hybrid program attend class one evening per week over the course of two years. Courses meet in person one week and online the alternating week. Off-site assignments are conducted during the weeks that you're not attending class in person.

Students can expect to spend 2 hours per week studying for each credit they are taking. In other words, for a two-credit course, you can expect to spend four hours studying in addition to class time. Students are also required to complete 250 hours of fieldwork for their APEX internship.

Please note that tuition rates and fees are subject to change and more information can be found about tuition and graduate student fees on the University Tuition and Fees Schedule. In addition to tuition there are fees for graduate students including mandatory health insurance (Fall/Spring), Associate Graduate Students of USF (AGSUSF), and an applicable fieldwork fee per practicum course and required malpractice insurance fee per practicum course.

USF offers limited scholarships each year. If you are accepted to the program, you will receive information about applying for a scholarship. Information on financial aid can be obtained through our Financial Aid Department. Currently, students may visit the U.S. Public Health Service Commission Corps for funding opportunities in the Senior Commissioned Officer Student Training and Extern Program (SROSTEP). An additional resource to visit for Public Health funding opportunities is PublicHealth.org.

Please visit our Tuition & Scholarships page for for a list of scholarship opportunities in and outside of USF.

Students in the School of Nursing and Health Professions have their own, autonomous organization, the Health Professions Student Association (HPSA). All students in the Health Professions Department (students in the Master of Science in Digital Health Informatics and the Doctorate in Psychology degree programs, in addition to the MPH program) are welcome to join and engage in interprofessional networking and collaboration. Through the HPSA, students conduct their own monthly meetings, bring in guest speakers, engage in community service activities, and sponsor networking events for students in the department and across campus.

Upon graduation, students in all concentrations will be eligible to take the Certified in Public Health (CPH) exam, a nationally recognized credential in public health. The MPH Behavioral Health concentration is not a clinical degree but students are eligible to take the Certified Health Education Specialist (CHES) exam.

The MPH program works closely with Career Services to provide workshops and individual sessions in which you can learn to write an outstanding cover letter and resume, develop a Linkedin profile, and create a networking plan. Occasionally, the School of Nursing and Health Professions or USF hosts job fairs on campus and at additional USF locations.

Not at this time. However, graduate students taking 8 credits are considered full-time, therefore it is still possible to have a full time job and be a full time student. The program can be completed in 6 semesters.

Yes, many of our students seek other advanced degrees after they complete the MPH. Graduates have gone on to advanced practice nursing programs, medical school, and doctoral programs.

The Certified Health Education Specialist (CHES) exam is a nationally recognized credential demonstrating that an individual has mastered basic professional competencies and is committed to further professional development. The CHES credential shows that leaders and practitioners of health education and promotion have the knowledge and cutting-edge skills necessary for health education program design and implementation. MPH Behavioral Health students will be prepared and eligible to take the CHES exam.