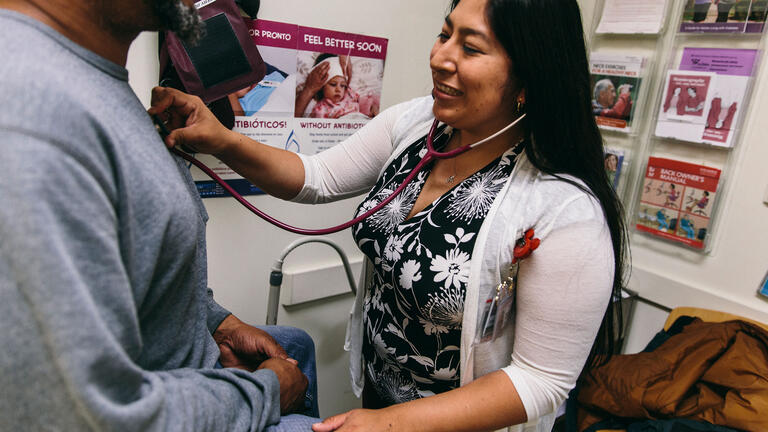 Registered Nurses (RN-MSN)
The Master of Science in Nursing (MSN) program prepares RNs already holding an associate's or bachelor's degree to advance within the field by gaining experience to develop and manage patient care plans, and to advocate for best practices within the healthcare field.
The program comprises of 33 credits for RNs with a BSN and 38 credits for RNs with an ASN/ADN over the course of two (2) years of study. Designed with a comprehensive schedule of classroom and/or online instruction plus evidence-based quality-improvement practicum coursework.
My choice to attend USF was heavily influenced by my passion for social justice. The MSN program has changed the way I think about healthcare because of its strong focus on interdisciplinary collaboration. I believe my personal and professional development at USF, as well as the relationships forged here, will empower and prepare me to change the world."
Bustina Wanjala RN, MSN '14
The USF Advantage
At USF you will be academically challenged, but you will have the needed support to succeed, including access to the University's Writing Center and a small class/cohort size to assure engagement and one-on-one attention from highly accomplished faculty.
A USF MSN-prepared nurse is equipped to:
Advocate for and design health promotion and risk reduction services for diverse populations, communities, and the health professional team
Provide health education to individuals, families, or other health care providers
Improve patient care and safety, clinical outcomes, and unit efficiency
Reduce cost and improve standards of care with the use of evidence-based practice
Coordinate highly functioning clinical teams.
Program Structure and Time Commitment
100% Online and Asynchronous RN-MSN program. 
Nurses with associate degrees bypass a BSN in this robust, accelerated RN to MSN program.
Two-year program (33 units for BSNs; 38 units for ADNs)
400 practicum hours, which can be completed at your place of work, or we will work with you to secure a site
Office hours and one-on-one engagement with faculty available
Sample Courses
Foundations of Leadership in the Healthcare Microsystem
Quality, Improvement and Patient Safety
Health Informatics
Knowledge Development and Evidence-Informed Quality Improvement
Health Policy, Ethics, and Advocacy
Degree Requirements and Program Learning Outcomes
See our catalog for degree requirements, program learning outcomes, and courses.
Estimated Costs
Please note that tuition rates and fees are subject to change and more information can be found about tuition and graduate student fees on the university tuition and fees schedule. In addition to tuition, there are fees for graduate students, including mandatory health insurance and Associate Graduate Students of USF (AGSUSF) annually.
State Authorization
Please check our State Authorization Status List for the states and territories from which we can enroll students in specific online degree programs.