Campus Life
2021: The Year in Review
The top 10 USF stories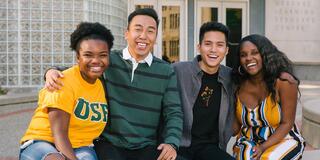 Time to review the year in stories at the University of San Francisco. These are 2021's most read stories by students, alumni, parents, faculty, and staff, starting with the No.1 article:
USF News & World Report Rankings. In the U.S. News & World Report 2022 rankings released in September, USF placed No. 1 in the nation for ethnic diversity, No. 23 in undergraduate nursing, and No. 103 overall.
USF Magazine's 30 Under 30 Issue. Meet the University of San Francisco 30 under 30. They are artists and entrepreneurs. They work in movie and television studios, on the baseball field and the basketball court. They work for health and for healing, for learning and for justice.
10 Things to Do 10 Minutes From Campus for $10(ish). USF is surrounded by things to do. Here are just 10 of them — close to campus and on a shoestring.
USF Sees Record Applications for Fall. USF received the largest number of applications in its history for fall 2021 admission.
7 Fresh Spaces to Look For on the HIlltop. Construction continued during the pandemic, turning USF's campus into a new place for students, faculty, and staff arriving in August. Here are seven things to watch for.
Olympic-Bound Dons. Four former members of the University of San Francisco cross country and track and field teams earned entry to the 2020 Summer Olympic Games held in Tokyo in July.
New Provost Champions Equity and Social Justice. Chinyere Oparah was named the new provost and vice president of academic affairs at the University of San Francisco on Feb. 18, and she brings a history of scholarship, administrative leadership, and a commitment to justice to the university.
Top 10 Ways to Get Ready to Return to Campus. Fall semester at USF was all about in-person classes, on-campus events, and sports like women's soccer games under the stars at Negoesco Field. Here's your top 10 list for getting ready to be back on the Hilltop.
Students Help Design and Build Tiny House Village for Homeless Youth. After four years of setbacks and struggle, 41 USF students and their professor have helped to complete a village of tiny houses in Oakland for 24 previously homeless young people.
USF Grad Saves Lives with Science. Fred Angulo '78, MA '79 helped develop the vaccine against the COVID-19 virus, which has killed more than 5.3 million people globally.