Campus Life
USF Sees Record Applications for Fall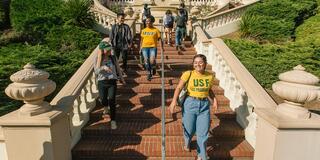 USF has received the largest number of applications in its history for fall 2021 admission.
There are 22,000 applications for admission to the fall 2021 entering first-year class, which is up 3 percent over last year and 36 percent over four years ago.
The students who applied to USF are diverse, with Black-identified (16.2 percent), Latinx (29.1 percent), and multiracial (9.1 percent) students representing a significant portion of applicants.
A combination of factors, including the university's plan to return to in-person education this fall, seem to have driven the increase over last year's applications, said Michael Beseda, vice provost for strategic enrollment management.
And overall academic credentials of the applicants — as measured by GPA, optional test scores, and class rank — are stronger than the year before.
"There is no doubt that this group faced challenges unlike any other group of applicants in this university's history, but their levels of achievement and levels of community involvement in the face of the pandemic are extraordinary," Beseda said.
The target size for the class of first-year students this fall is 1,330.
The geographic distribution of domestic applicants is slightly more from California and the Northeast than a year ago, and every state is represented in the applicant pool. Applications from international students also increased 3 percent from last year.