Passion for Justice
Students Help Design and Build Tiny House Village for Homeless Youth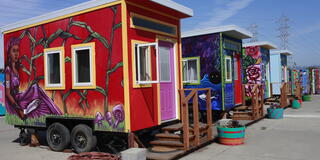 After four years of setbacks and struggle, 41 USF students and their professor have helped to complete a village of tiny houses in Oakland for 24 previously homeless young people.
"No one was going to give up," said Seth Wachtel, associate professor and director of the architecture program.
Community Roadblocks
In 2017, Wachtel was approached by Youth Spirit Artworks (YSA), a nonprofit in Berkeley, to help build housing for young people who become homeless after aging out of the foster system at 18. Many of the young people were community college students, he said.
Wachtel joined the effort, and he got his students involved.
"I was working with USF architecture students to do a master plan for the tiny homes," he said.
But there were objections by some people in the Berkeley community about where the homes would have been located.
Next, for a plot near the Greyhound Bus station in Oakland, the students and Wachtel created another master plan. This time, he said, YSA had to abandon the site due to a short-term lease and the property being sold.
Then, the City of Oakland offered the YSA an acre of land just south of RingCentral Coliseum.
During the spring semester of 2020, the USF students created another master plan, with input from YSA, and this time it was approved. The plan called for 28 tiny houses on wheels; two 30-foot yurts for community gatherings; laundry facilities; a kitchen; and six bathrooms in custom trailers. Four of the tiny houses would be ADA accessible.
Many Hands
Students and alumni joined other volunteers last winter to build the tiny houses, the yurts, and raised bed gardens, and to help create murals throughout the village. Rayna Garcia '08, one of Wachtel's former students and now a union electrician, was there to help.
The Youth Spirit Artworks Empowerment Village on Hegenberger Road in Oakland opened to its new residents on April 2. Many who live there are the same age as the USF students who helped design the project and build the tiny home community.
"I felt extremely grateful for the opportunity to work on something so big for the community," said Nguyen Tao '21. "With the increase in housing instability, we wanted to create a safe space for homeless youth to learn and grow."
Daniel Caballero '19 agreed.
"It was our chance to put all of the skills we learned in the USF architecture program to use, and I couldn't be prouder of the outcome."
Image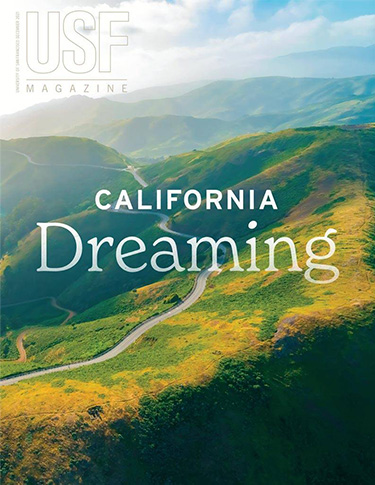 Featured in USF Magazine
This USF News story was published in USF Magazine, where you can find feature stories about university life, alumni Class Notes, and information about events at USF.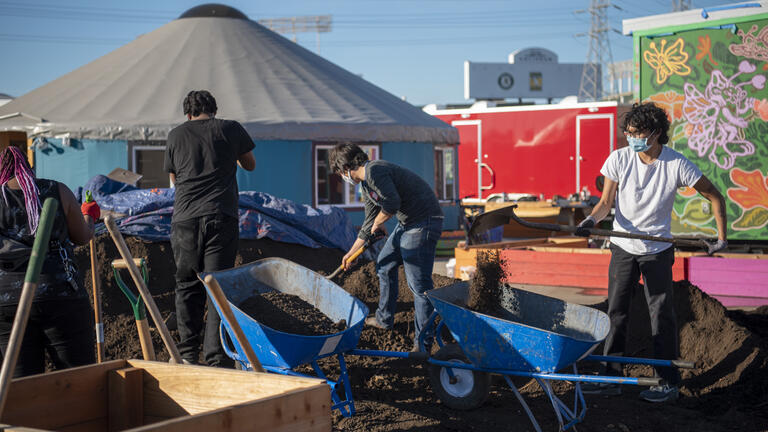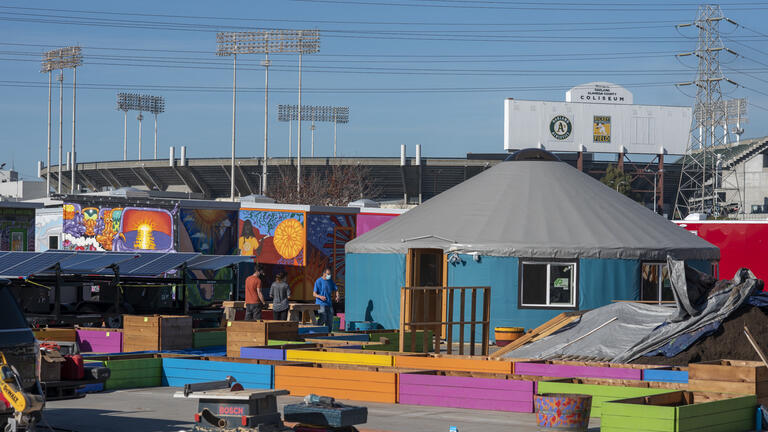 USF students build raised beds at the tiny house village.
The YSA Empowerment Village under construction.