Campus Life
7 Fresh Spaces and Places to Look for on the Hilltop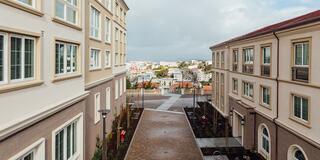 Construction continued during the pandemic, turning USF's campus into a new place for students, faculty, and staff arriving this month. Here are seven things to watch for:
The fire pit in the courtyard at Lone Mountain East residence hall. Talk to your residence director about hosting a marshmallow roast. 
Lone Mountain East is actually two buildings (one is four floors and one is five floors) connected by an overhead walkway.
The bocce court in the courtyard at Lone Mountain East, as well as a water feature, overhead twinkle lights, and "living" walls planted with climbing plants.
The new dining commons on the first floor of Lone Mountain (near the former Wolf and Kettle cafe) is called Koret Lodge. It has a sweeping view of San Francisco.
Beer and wine taps at Koret Lodge will dispense adult beverages for those of age and for alumni and other campus visitors.
A remote ordering app for meals is available now on campus so you can order ahead of time. If you're dining on campus, enjoy seasonal ingredients and eggs from uncaged hens. Vegetarian, vegan, gluten-free, diabetic — burgers and fries, too. Here's the app.
Sewing machines, 3D printers, Legos. Check out the new Innovation Hive and maker space inside Harney Science Center.