Equipped to Lead and Succeed
USF Grad Saves Lives with Science
He leads the team that helped develop COVID-19 vaccine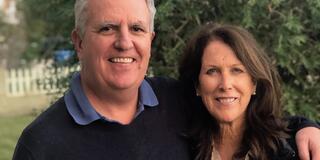 Fred Angulo '78, MA '79 helped develop the vaccine against the virus that is killing more than 3,000 people a day in the U.S.
"It's the greatest thing I've ever done in my scientific career," said Angulo, lead epidemiologist for Pfizer.
Angulo is an expert on infectious diseases. He studied biological threats for the U.S. Department of Defense before joining the U.S. Centers for Disease Control and Prevention where, for 26 years, he traveled the globe, studying outbreaks like Ebola in West Africa and cholera in Haiti.
Three years ago, he left the CDC to join Pfizer and work on vaccines and vaccine-preventable diseases.
"This is something I have been working on for my whole life," Angulo said. "We understood very early that this [COVID-19] was going to be a big problem."
Trials and Assessment
The group Angulo works with at Pfizer provides evidence to U.S. advisory committees that give recommendations on who should get the vaccine, as well as consultation on the scope and choice of clinical trials for the vaccine. With more than 11 million people vaccinated in the United States as of Jan. 15, Angulo and his team are developing additional studies on how the vaccine is working.
He co-authored a study this month that found COVID-19 infections in the U.S. may have been four times higher than the number of cases reported, with one in seven Americans infected by mid-November. This information helps the vaccine researchers predict how herd immunity could be reached in the U.S., in combination with the vaccine.
Angulo said USF prepared him for this moment.
"USF gave me a solid foundation in the liberal arts and biology and science," he said. "The foundation of all of this work was my science degrees from USF."
From Animals to Humans
While at USF on an ROTC scholarship, Angulo had no idea he'd end up fighting a global pandemic. He wanted to be a large-animal veterinarian, after spending some of his youth on a cattle ranch in California.
After graduating from USF with undergraduate and master's degrees in biology, Angulo pursued a degree in veterinary medicine at University of California, Davis. There, he learned about illnesses passing from animals to humans and decided to pursue a career in public health. He earned a master's degree in public health at Davis.
From there, Angulo served in active duty with the U.S. Army in Europe, leading veterinary units and studying biological threats. He left the service in 1991 and earned a Ph.D. in epidemiology from UCLA.
Today, like so many others, Angulo is waiting to get the vaccine. And, like so many others, he knows people who have had COVID-19. His next-door neighbor died from it.
"I cannot wait to get this vaccine, and I cannot wait until my family gets this vaccine," he said. "I will run to it."
Angulo's family includes his three sons and his wife, Ann Moriarty-Angulo '80, whom he met at USF. She is an oncology nurse at the Knight Cancer Institute at Oregon Health and Science University.
The couple's connection to USF remains strong. Four of Angulo's college friends are still friends today — they have joined in each other's wedding parties and stayed in touch over the past five decades. Angulo also fondly remembers the late Professor Robert Schooley at USF as being one of his favorite teachers.
It is the strong foundation he built at the university that gives Angulo faith in the vaccine.
"I see light at the end of the tunnel, and it's very bright," he said. "We've gone through the darkness."
Image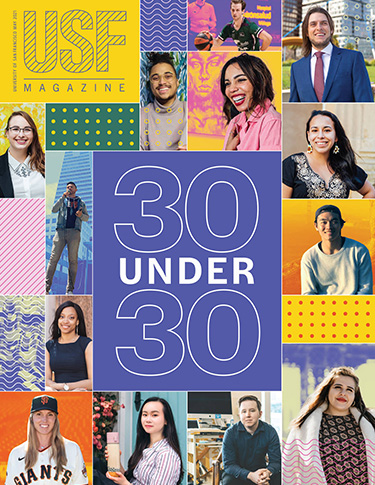 Featured in USF Magazine
This USF News story was published in USF Magazine, where you can find feature stories about university life, alumni Class Notes, and information about events at USF.