Campus Life
Top 10 Ways to Get Ready to Return to USF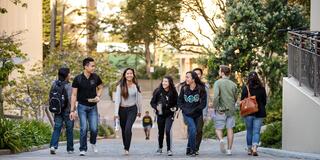 Fall semester at USF is going to be all about in-person classes, on-campus events, and sports like soccer games under the stars at Negoesco Field. Here's your top 10 list for getting ready to be back on the Hilltop.
Plan to get boba and hang out in Golden Gate Park. California and the city of San Francisco have announced a return to business as usual and have lifted most capacity and distancing restrictions.
Get vaccinated. USF requires all undergraduate and graduate students to be fully vaccinated for COVID-19 for fall 2021. Students can submit proof of vaccination through Med+Proctor. Faculty and staff must attest to their vaccination status, and we strongly urge all members of the community to be vaccinated.Proof of vaccination is required to visit the Koret Center or for indoor dining on campus.
Know mask guidelines. USF follows face-covering recommendations by the City and County of San Francisco, the State of California, and the CDC. USF now requires that everyone, regardless of vaccination status, wear face coverings indoors for the foreseeable future. USF also now requires face coverings be worn at all outdoor events on campus. 
Welcome visitors to your campus. Parents, friends, and other visitors are allowed on campus, including in the residence halls. But if they are not feeling well, please ask them to stay home.
Make friends, make pasta, do laundry. There are no capacity limits in buildings on campus, and there are no physical distancing restrictions as we return to campus this fall. As a result, more classes will be in-person than originally planned, common spaces will be available for group gatherings, and kitchen and laundry facilities in the residence halls will be open. Check with your professors to see if your courses have been converted from hybrid or hyflex to in-person.
Prep for good grades. USF is following its usual undergraduate grading policy after implementing a Pass (P) Grade Option for remote classes during the pandemic.
Stay healthy. Students should complete a COVID-19 "Staying Healthy" EVERFI course by Aug. 24. Students who are registered for the fall semester will receive an invitation to take the course. For information, contact Health Promotion Services at hps@usfca.edu.
Figure out if you have to quarantine. Unvaccinated students, students who are not fully vaccinated, and students who received a vaccine that is not listed by the World Health Organization who are arriving from outside of California must complete a 10-day quarantine before they can come to campus. Off-campus students must quarantine off-campus. Residential students will receive additional information about the on-campus arrival quarantine plan.
Check in for health. All students, as well as faculty and staff and other community members, must complete symptom monitoring using the Dons Health Check daily when they are on campus or plan to come to campus.
Stay informed. Visit USF Together, the hub for COVID-19 guidance, news on reopening, and resources to stay safe and informed.