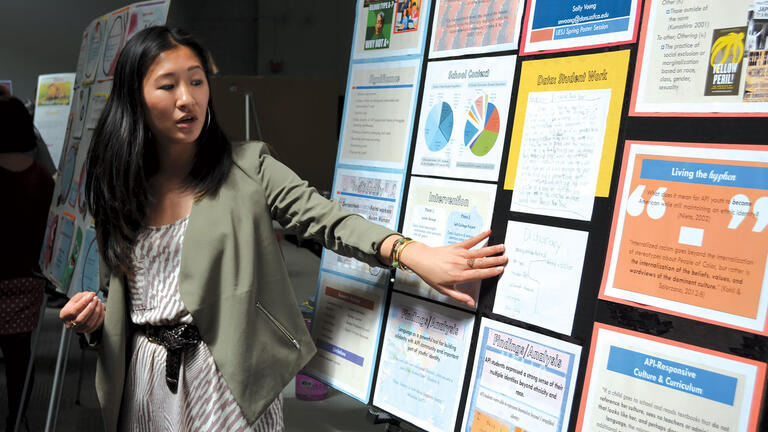 Teaching English to Speakers of Other Languages with Credential, MA
Internship Requirement Checklist
Requirements & Evidence Needed
Employment verification: A current contract or letter indicating an offer of employment (at least .60 FTE or 3 classes) in SFUSD, OUSD or other local district. You must be the teacher of record, not a substitute.
Bachelor's degree or higher from an accredited institution of higher education posted on official transcripts. Transcripts do not need to be in a sealed envelope. Note: If hired by district for Bilingual Authorization (formerly BCLAD) position, must also show evidence of passing CTC approved language test.
Verification of admission and enrollment in the USF School of Education Multiple or Single Subjects credential program. All candidates must complete the following:

TEC 610 Learning & Teaching (3)
TEC 611 Ed of Bilingual Children (3)
TEC 600 Teaching Learning & Technology (2)

MS Candidates must also complete:

TEC 621 MS C&I: Early Literacy (3)

SS Candidates must also complete ONE of the following:

TEC 615 SS C&I: Math & Science (3)
TEC 628 SS C&I: English (3)
TEC 629 SS C&I: Social Science
TEC 617 SS C&I: Teaching Fields -or-
TEC 622 Academic Literacy

Copy of report showing passing of the California Basic Educational Skills Test (CBEST) or the Multiple Subject CSET Writing Skills Exam.
Verification of subject matter competency: 

Multiple Subjects: Pass CSET exams.
Single Subject: Pass CSET exams. 

Completion of the U.S. Constitution requirement. 

Have the USF Credential Analyst (ED 033) review your transcript for a course that may qualify.
Take a CTC approved course or exam. The USF constitution exam is available online.

Fingerprint clearance or photocopy of prior California credential or permit. CCTC website. 
Verification of a current TB test showing negative results; must be within past 2 years.