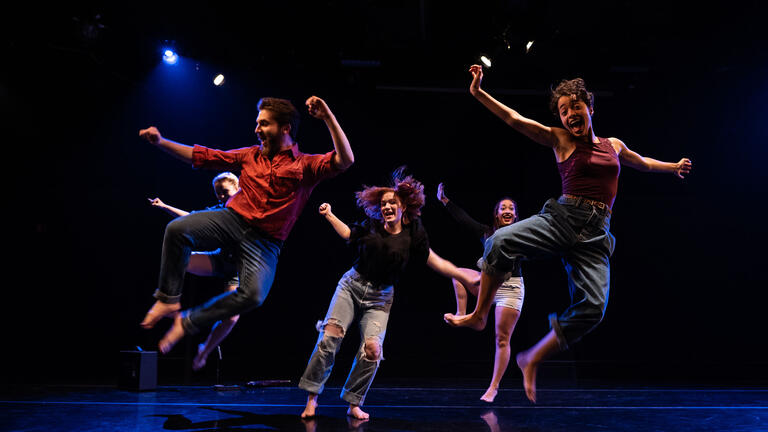 Performing Arts & Social Justice, BA
Careers
With approximately 10,000 for-profit and nonprofit organizations in the U.S. generating more than $13 billion in annual revenue, there's opportunity in the performing arts. Our graduates have gone on to pursue careers as professional artists, performers, choreographers, community organizers and activists, theater technicians, educators, carpenters, arts fundraisers, and more.
The connections and relationships I made at USF are really what got me started after graduating. Besides the great range of learning opportunities that encourage student agency & exploration, the professors in my department were incredibly supportive resources that helped point me in the right direction for where I wanted to go."
Felicitas Fischer '19
Fields of Employment
a partial list:
Professional Performer
Choreographer
Director
Recording Artist
Education/Outreach Coordinators
MA/MFA Graduate Students
Theater Technicians
Development Directors/Program Managers
Community Art Facilitators
Teaching Artists/Activists
How did your USF education prepare you to do your work?
"My education at USF, and specifically as a member of the PASJ program, taught me the importance of collaboration, experimentation, and advocacy within the arts. As an artist, I strive to promote diverse and underrepresented voices, to create work in collaboration with community members, and to facilitate opportunities for future performers and writers. My time in PASJ laid the foundation for me to achieve these goals." — Matthew Morishige '17
Employers
a partial list:
Academy of Art University
ACX Audiobook Creation Exchange
Belmar
Betfair US TVG Network
Design Within Reach
Imagination Theatre
Improbable Stage Company
Los Angeles Chamber Orchestra
Marin Ballet Co.
Rehabilitation Through the Arts
San Francisco Art Commission
San Francisco Arts Education Project
Secession Art & Design
Segerstrom Center for the Arts
Sony Independent
The Young Agency
Theatre of Yugen
Upward Bound
Van Houten Music
WNYC FM
What's the Secret Sauce?
"Follow your gut, don't be afraid of making mistakes and make plenty of them (be humble enough to know you're not perfect). Meet people in your desired career area – learn from them and don't be afraid to reach out for opportunities respectfully. Once you're in the door, always give and become indispensably useful. Practice your craft and realize there's never a peak if you keep improving slowly, because sustainability is better than burnout. Don't be focused on solely what you want/need – instead, find ways to help others. Consistency is the secret sauce." — Jaime Serra dos Santos '19
Career

Planning & Preparation
Take advantage of internships, mentorships, resume writing and interview skills workshops… the list goes on.