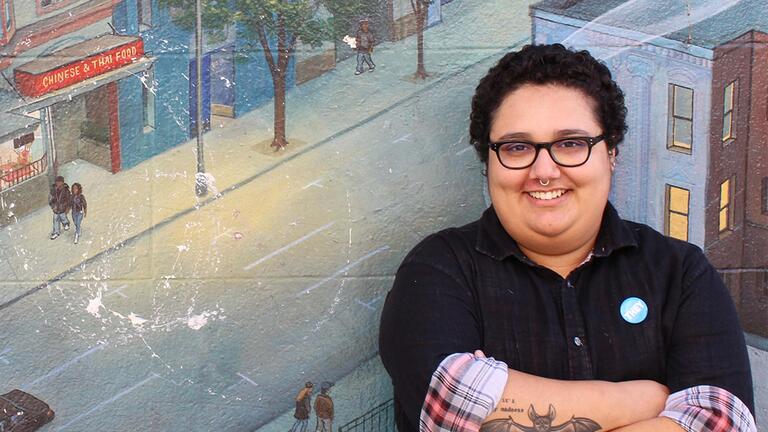 Staging Justice
Amplifying the Voices of the Underserved
Nicky Martinez '16 (they/them) graduated with a major in Performing Arts and Social Justice (PASJ) with an emphasis in Theater. "What are you going to do now?" Asked Nicky's parents, who were unsupportive of their career choice and identity as a queer and genderfluid individual. But Nicky's time at USF prepared them for a career engaging critically with performance art and supporting underserved voices like their own within their community.
Nicky learned of an opportunity through Professor Amie Dowling, and was hired as the Program Manager at CounterPulse, a social justice experimental theater for emerging artists located in San Francisco. Not only is the job inline with Nicky's goals and missions of merging social justice and performance art, but having a job that allows for an artist to continue the pursuit of their personal practice is something that many only dream of after graduating college.
Why did you choose PASJ at USF?
My high school theater program focused on social justice elements of the performing arts, and I was really into it. I wanted to continue my studies in social justice and adapting contemporary performance art to convey social justice messages and activism. USF had a whole major in what I was looking for.
What's your job at CounterPulse like?
I'm in charge of our Artist in Residency programs. I manage artists, making sure they're on track with performance timeline, budget, and offering artistic, personal, and professional feedback.
I also manage the Rental Exchange program, which offers affordable rehearsal spaces, and the House Artist program, which sponsors local artists. So I do a lot. But it's very rewarding to see all the artists put their work on a stage. I know their artistic journey because it's my journey too, and to see them succeed on our stage is very rewarding.
How did PASJ prepare you for your career?
The program taught me how to think critically about my own performance art as well as the work of others. It really helps me in choosing and managing artists for the residencies at CounterPulse. Being able to provide insight from a critical perspective has been integral when meeting with my colleagues to discuss what our seasonal programming will be, and upholding our mission of being a social justice experimental theater for emerging artists.
How does PASJ incorporate social justice?
Refocusing the lens of how we look at performance art was an emphasis in our classes. We learned the history of social justice oriented theater and looked at how contemporary ideas of performance can integrate social justice elements. The program encourages thinking about our objectives as artists, how to do that consciously, making social justice a primary concern instead of a second thought.
How do you continue USF's mission of contributing to the greater good through social justice?
Art provides a safe place for people to address and question issues that seem too vast to deal with or fix, and makes them more manageable. CounterPulse allows communities to come together and experience cultures, struggles, and other art forms that raise awareness of issues and hope for a better future.
My personal performance art is driven to be loud for those who are silenced. Whether it be for trans and queer individuals who need visibility and variation from popular narratives that don't always represent who we are; survivors of sexual abuse that continue to be silenced by rape culture; latinx individuals being torn apart by our own government; those who struggle with mental illness and are not always seen. Through the plays that I write, I provide platforms for those who are oppressed and oblige my audience to engage with the issues that I address, and hopefully motivate them to do something more.