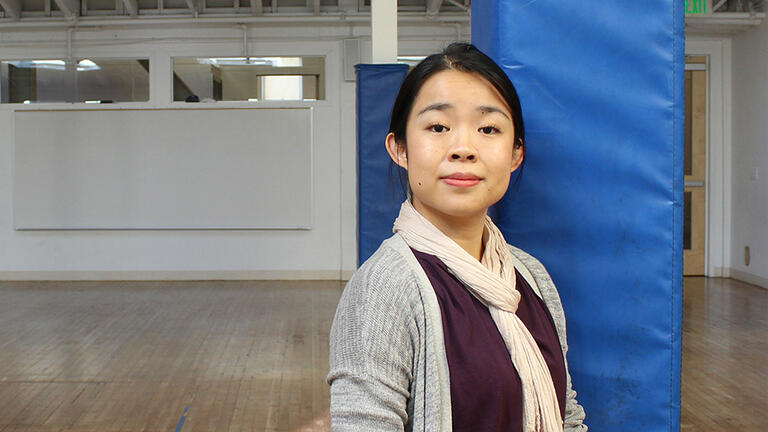 Movement for Change
Relating Social Justice Through Dance
Clarissa Ko '16 started dancing at a young age. Through the support of teachers that encouraged her to create, choreograph, and direct her own pieces, she realized the richness and power of the arts. Having discovered her passion, she began wondering: could she make a career out of it? This led Clarissa to USF and the Performing Arts and Social Justice (PASJ) program. Since graduating, the answer has come in the form of an abundance of opportunities in the field, from teaching dance and managing dance companies to forming her own.
What brought you to PASJ?
I felt a strong connection to the community engagement and social action elements of the program. I had a hunger to engage both my performance and intellectual abilities. I was looking at a one-of-a-kind program that could elevate my thinking about the role the arts play in our society, and push me to grow as an artist and thinker.
How did the program incorporate and emphasize social justice?
In PASJ, the performing arts are seen as simultaneously a reflection of, and influence on, our world. Each class I took, from dance technique, to composition, to history, encouraged me to think about the relationship between art and community, culture, and society.
One example that is very dear to me is the Dance Generators, an intergenerational dance company housed at the university. The work we made was collaborative with senior citizens. Through them, I understood how I could use performance to build community. I questioned what it meant to be a dancer, who gets to be a dancer, and where dance can be seen. It is this inquiry and willingness to challenge the status quo, that encapsulates the program.
Were there any other memorable projects?
Professor Amie Dowling asked me to work as Production Manager on the film Separate Sentences, which explores the generational impact of incarceration, and the toll on families and communities. Through this experience I learned practical skills that I use today in my professional life as both the company manager for Lizz Roman & Dancers and my own dance company, such as managing a budget, scheduling rehearsals, and coordinating site bookings. I am immensely grateful for this opportunity and for the relationships I've built with the individuals involved in this project.
Tell me about your work as a dance instructor.
After graduation, I accumulated a lot of experience teaching youth ballet at ODC's Youth & Teen Program and HeartBeat Dance Academy, preschool dance classes with Performing Arts Workshop, and interning at Luna Dance Institute. In Spring 2018, Professor Dowling sent me the job posting for the position at Friends School in the Mission, where I am now the K-8 Dance and Drama instructor.
As a dance educator, the most rewarding part of my job is holding space for dance to be a moment of joy for people in their day or week. Whether that is for my 5 year olds to move to their own beat and make mistakes, for my 12 year olds to choreograph their own work or for families to see their children performing, the human connection is invaluable to me.
Last, but definitely not least, tell me about your own performance practice.
My work is made in collaboration, wherein we investigate a topic that encourages empathy, courageous vulnerability, and community building from the audience to the artists. This past April, I presented (de)classified through my dance company Five Feet Dance under CounterPulse's EDGE residency program. The piece featured six Asian American women who went through a rigorous process of grappling with what it means to be an Asian American woman.
It was a memorable and emotionally exhausting experience. The most rewarding part was post-show, when we had so many conversations with folks who related to what we shared, or learned something new about our experiences, or wanted more from the performance. These conversations about identity, and opportunities to meet and connect with strangers, summarizes why I make work, and what the PASJ program prepared me for.