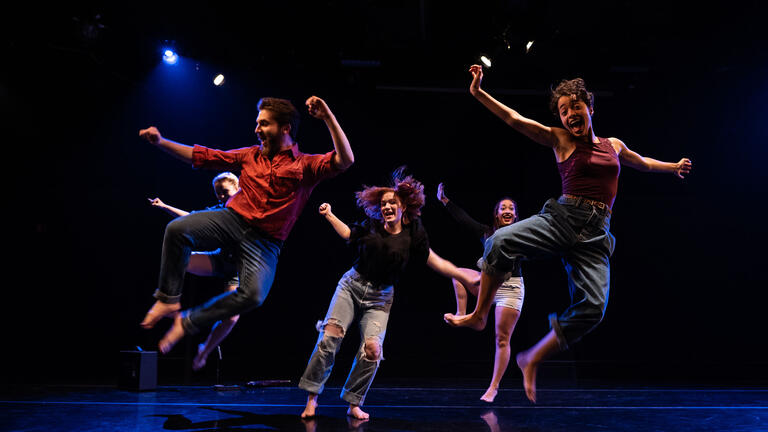 Performing Arts & Social Justice, BA
Performance Opportunities & Spaces
USF provides you with a number of performance opportunities sponsored PASJ and independent student-run groups sponsored by University Life. The performance spaces both larger theaters, Presentation Theater and Studio Theater as well as smaller spaces throughout the campus.
Performance Opportunities
There are many performance opportunities at USF, and many ways for you to express yourself through theater, dance, and music.
I loved perform with my peers, and getting to be part of a creative community on campus that also got exposure to learning about social-justice issues that we were encouraged to understand through our artistic craft."
Felicitas Fischer '19
Dance
Image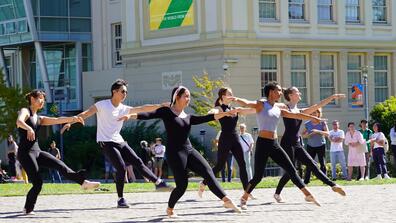 Study with guest choreographers in Dance Ensemble. Join a student club that specializes in Mexican folk dancing or hip-hop. Perform with others in the community at festivals, schools, and senior Centers in Dance Generators.
Music
Image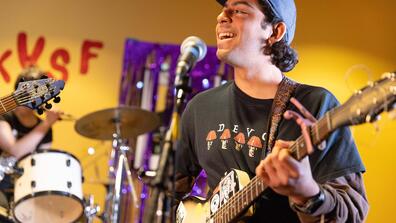 Rock out and explore various styles in Rock Band. Digitally create and manipulate sounds while performing with the Electrified Sound Collective. Create the soundtrack for USF athletics, campus, and community events in the Dons Marching Band.
Theater
Image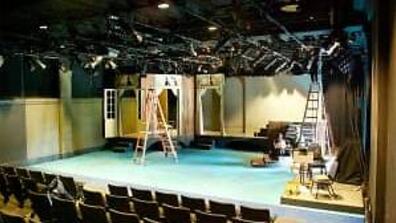 Join the only and therefore funniest comedy improv team Awkward Silence. Ready for the big time? Theater Mainstage Productions features students in high-quality productions directed by faculty and designed by professional guest artists. Want to hone your stage hand skills? Enroll in the Tech and Design Certificate program.
Performance Spaces
Studio Theater
Kathi Gallagher Dance Studio
Rehearsal Spaces and Practice Rooms