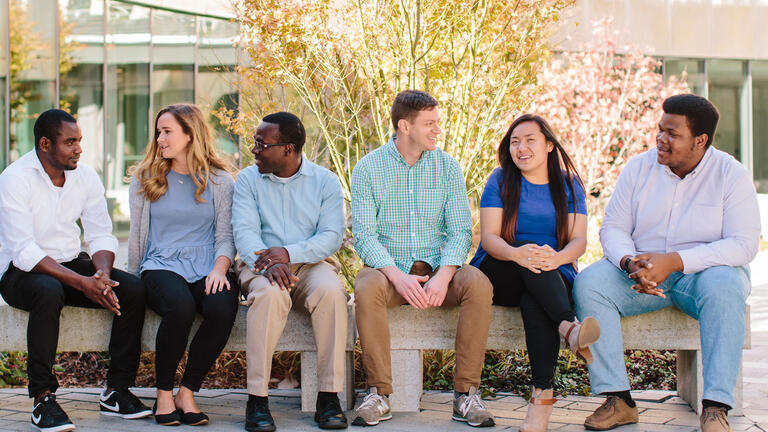 International & Development Economics, MS
Frequently Asked Questions
Program Details
Full-time graduate students typically take six to nine units per semester. Each class is three units, which results in two or three classes per semester. The length of time required to complete the program varies from three to five semesters depending on the workload the student wishes to undertake.

Many of the core IDEC classes are offered in the evening, making it possible to structure your studies in a part-time way. It is important to note that there is a mandatory two to three month summer field research period in the summer following a student's first year in the program.

The program only begins in fall.

The Applied Economics MS degree is for students who are interested in understanding and working in the digital economy. Students learn programming and data science skills alongside their economics coursework. Typical career objectives are business analytics or data science roles in Bay Area tech firms.

The International and Development Economics (IDEC) Program, in contrast, is oriented toward field research methods and quantitative techniques for causal identification, especially relevant for understanding development. The IDEC Program has a strong independent research component that culminates in the writing of a master's thesis, often based on field research conducted abroad. Students typically pursue careers in international development, public policy, or the economics department of firms.

Both programs are quantitatively rigorous, providing a strong foundation in highly-valued data analysis skills. Students in either program are welcome to take courses in the other program as electives and may collaborate with each other on research projects. Both programs are also excellent preparation for students considering a Ph.D.

A unique and key feature of the program is the overseas field-study internship. This internship is coordinated with the help of an economics department faculty adviser. The internship takes place in the summer between semesters of study at USF. Research collected during the field study can be applied toward the graduate research project. While the department and its faculty have developed relations with partner universities in the Philippines, El Salvador, and Guatemala, students are not limited to these partnerships. Students can identify and set up an internship at sites in other countries with the approval of their adviser.

You can reach out to our Student Ambassador to ask questions to learn more about the program experience.
Financing Your Education
Teaching assistantships are limited and awarded based on GPAs. At the beginning of the second semester, a list of economics graduate students in the top 10 percent is generated and dispersed to the economics faculty. Faculty may choose to pick a teaching assistant from this list but are not obligated to do so.

A limited number of travel stipends are available from the university to help cover the costs of the summer internship, but are not guaranteed for every internship. In past years, the graduate program has assisted in partially covering airfare cost and living expenses. However, the program's contribution varies each year. Students are advised to factor the costs of their overseas field study internship into the total cost of their program.

The amount depends entirely on where the student does their summer field research. For example, Latin America is generally much less expense than parts of Europe or Africa.
How to Apply
Applicants must hold a bachelor's degree (or equivalent), preferably in economics, from an accredited university-level institution. Some IDEC students have undergraduate degrees in a subject other than economics and, therefore, may need to take a few required undergraduate courses before enrolling in the core graduate requirements of the program. It is possible to be admitted before completing these undergraduate courses, but a student may be required to complete the necessary courses in the first semester at USF prior to starting the core coursework.

VIEW THE UPCOMING APPLICATION DATE

Completed applications on file before the application date are reviewed for admission and for the limited number of scholarships. Fall applications completed after the listed application date are considered for admission on a space-available basis.

A GPA of 3.0 or higher strengthens an application. In reviewing applications, the admission committee takes all supporting documentation into consideration, giving particular attention to academic performance in economics, statistics, calculus, and finance courses. Generally speaking, most accepted students typically have a GPA of 3.4 or higher.

The GRE is not required. However, you may submit GRE scores as extra supporting documentation if you feel it strengthens your application. Other test requirements can be found on our How to Apply page.

Courses taken from another university would need to be evaluated by the program adviser. This process of evaluation would take place after a student is accepted into the program and has his/her first advising session with the program adviser. Depending on the syllabus, the course may or may not be credited.

The committee looks for at least a B grade or better in math courses, statistics, and calculus course(s). It helps strengthen an application if a student has already taken an intermediate micro and macro course with a grade of B or better. It also strengthens an application if a student is proficient in another language that is spoken in a developing country. Strong letters of recommendation (two are required) also strengthen an application, in addition to a well written statement of purpose that explains why an applicant is interested in this particular focus of economics.

The admission committee begins the review of completed applications shortly after the Priority Application Date listed here. Admission decisions are generally finalized within approximately four weeks. After that period, completed applications are reviewed on a space-available basis.

Students submit a non-refundable deposit (that is applied to your fall tuition) by the deadline indicated in the acceptance letter. If the deposit is not submitted by that deadline, the space in the fall program is not guaranteed and the admission may be canceled.

Each year, 20–25 students start in the program. In general, the IDEC program receives approximately 125 applications each year.

Please check this page to view English test score requirements and eligible exemptions.

Accepted students will receive their I-20 along with their acceptance letter. If the I-20 is not with the acceptance letter, it will come under separate mail within approximately 15 business days.