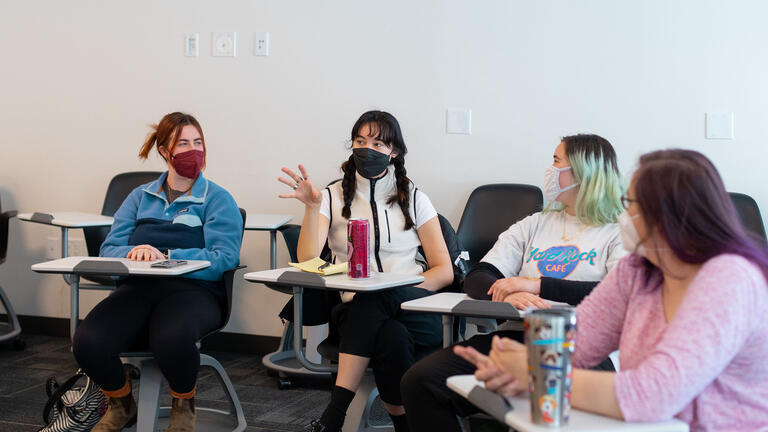 PUBLIC HEALTH, MPH
Health Policy Leadership Concentration
What is Health Policy Leadership?
The MPH Health Policy Leadership concentration develops skills and knowledge in public health systems, leadership, strategy, policy design and implementation, political analysis, ethics, and epidemiology. The in-person classes are located in California's state capital, Sacramento. The USF Sacramento Campus is the ideal setting for students looking to immerse themselves in health policy and leadership. Full time and adjunct faculty include experienced leaders in varied California state government agencies, the California legislature, national and state-wide foundations, county government, and more.
This two-year, hybrid program affords students seminar classes with strong faculty support for professional development. The program operationalizes a commitment to health equity in public health systems, including proficiency in management skills in the crafting and execution of strategy and program plans, and the development of policies in public and nonprofit organizations and programs at the county, state, or national level. Students develop a deeper understanding and paths for effective action in California, in the United States, and internationally.
Learning Outcomes & Degree Requirements
Program Highlights
Open to students with a Baccalaureate degree in any field from an accredited institution.
The MPH Health Policy Leadership concentration requires 42 credits to graduate (26 credits of core courses + 16 credits of Health Policy Leadership courses).
Courses are offered in person year round one evening per week over the course of two years. Courses meet in person one week and online the alternating week. Off-site assignments are conducted during the weeks that you're not attending class in person.
Program has a particular emphasis on public health systems, evidence-based best practices, policy analysis, and leadership best practices.
Advanced coursework in leadership and public health policy.
Particularly suited to aspiring leaders in health administration and public health policy, as well as candidates aspiring for entry into doctoral programs.
Concentration Competencies
Predict how health policies may impact risks and health outcome drivers at the health system and public health sector level.
Synthesize evidence from literature review and databases to write a policy options paper for a specific audience, identifying a problem and proposing alternative approaches to meet health needs in underserved communities.
Design a leadership plan and strategies to manage stakeholders and related political processes, addressing conflict, resistance, and cooperation in the implementation process.
Communicate recommendations to improve organizational strategies and capacity to implement health policy
Apply scientifically-based criteria and regulatory knowledge to enhance accountability in the creation and implementation of public health policies.