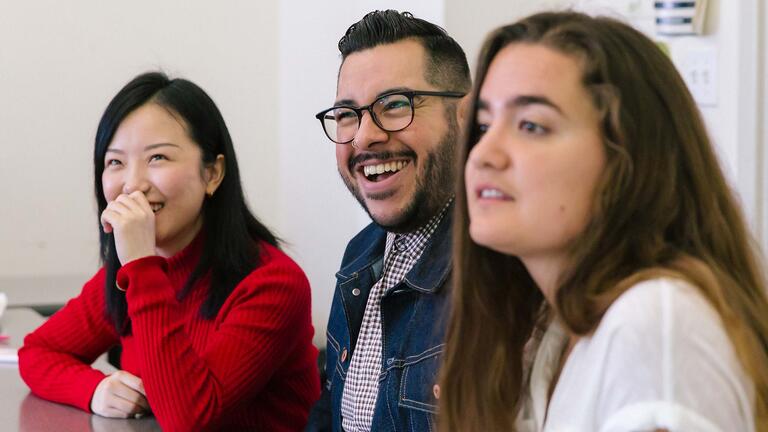 Clinical Psychology, PsyD
Clinical Training & Research
Clinical Training
Clinical training occurs through practicum and internship training off-campus in various clinical settings. Practicum training begins in year 2 and continues at a new site each year during years 2 through 4 of the program. The PsyD Program is a member of the Bay Area Practicum Information Collaborative (BAPIC), which is the mechanism through which students apply to and match at their practicum training sites. The program faculty and Director of Clinical Training are closely involved in supporting the student application and interview process for practicum placements. 
During years 2, 3, and 4, students spend approximately 16 to 24 hours a week at their practicum site while concurrently attending classes two days a week on campus. Students have access to numerous practicum training sites in the Bay Area. While specific sites vary from year to year, sites may include major medical centers, community mental health agencies, university counseling centers, school-based programs, children's hospitals, and in-patient treatment programs. Students accrue at least 1,500 hours of practicum experience and are expected to have breadth and depth in their clinical training by the time they apply for their full-time clinical internship. Students develop skills in psychotherapy, psychological assessment (e.g., cognitive, personality, neuropsychological testing), and consultation with a variety of populations and communities. 
The culminating clinical training capstone of the program is a 1-year full-time (or a 2-year part-time) clinical internship. Students apply for a clinical internship through a national process facilitated by the Association of Psychology Postdoctoral and Internship Centers (APPIC), which provides access to hundreds of training sites across the United States and Canada. 
 
Research & Scholarship
Tenure-track and tenured PsyD program faculty actively conduct research and publish in the field of clinical psychology. Students are required to complete a Clinical Dissertation as part of the PsyD degree and begin this process in year 2 of the program while concurrently receiving coursework in statistics and research methods. Students have the opportunity to study a clinically relevant topic in depth using a variety of methods. Students are matched with a PsyD program faculty member who chairs their dissertation and provides guidance, feedback, and support throughout the process. Students can additionally seek out other research opportunities within and outside of the PsyD program based on their interests and availability of positions.  
Current Student Projects
Mental Health Outcomes of Mothers Employed in the Information Technology Field

The present study aimed to provide a better understanding of factors contributing to depressive symptomatology of mothers working in the Information Technology field (IT field) and to understand variation in postpartum depressive symptomatology within this group based on immigration status and, personal and professional social supports utilizing a non-experimental, cross-sectional quantitative approach . 56 participants, both immigrant (n = 30) and non-immigrant (n = 26) mothers currently employed in the IT field, who had a baby in the last 12 months were recruited over the course of five months. A survey link using the online data collection software, Qualtrics, was posted on various online social networking platforms (e.g., Instagram, LinkedIn and Facebook), email listservs, and distributed by snowball recruitment. Bivariate correlations, linear and hierarchical regressions were conducted to explore the relationship between depressive symptomatology and immigration status, acculturation, social support, professional support, and family supportive work environments. Results demonstrated a statistically significant negative relationship between severity of depressive symptoms and support from one's personal networks (i.e., significant other, friends and family), where higher perceived support yielded lower postpartum depression scores. Additionally, postpartum depressive symptoms and support received from the supervisor yielded a statistically negative association indicating that higher depressive symptoms were associated with lower support from supervisor. These findings may offer direction for healthcare providers, companies and employees in order to provide working environments that are overall supportive of working mothers.

Community Based Participatory Research Informed Manualization and Piloting of E-Training of a Modified Dialectical Behavior Therapy Intervention

This study focused on revision of a previously piloted dialectical behavior therapy protocol and development of web-based staff training in DBT. Research questions explored the efficacy of delivering remote web-based training and whether there were differences in outcome scores between staff with psychology backgrounds and those from other disciplines. Using a community-based participatory research approach, qualitative feedback and quantitative data was gathered from staff members working in a 24-hour residential care facility. Results from McNemar's statistical test showed no significant differences between pre- and post-survey in terms of participants gaining more knowledge in DBT. Conclusion: Based on the results, delivery of web-based training was not efficacious as there were no significant differences in knowledge before and after the online training.

 
Dissertation Presentations
The goal of the Clinical Dissertation is to ensure that the Candidate possesses advanced scholarly abilities consistent with the aims and competencies of the PsyD program. In addition to other requirements, successful completion of the Clinical Dissertation signifies the culmination of the program and leads to the PsyD degree. The specific objective set forth by the PsyD Faculty to accomplish this goal is for the Candidate to demonstrate this competence and scholarship in a written document and at the final oral defense of that document, as well as during the mentorship process in preparation for these final products.
Previous Student Projects
Joseph C. Chung, Majority to Minority Shift: Experiences for American Born Chinese College Students from Predominant Chinese American Communities to Predominantly White Institutions
Kate G. Jablonski, Minority Stress, Social Support, and Mental Health Among LGBQP+ Religious Disaffiliates
Lindsey R. Rogers, "Made of Queer Magic": Understanding the Experiences of Pregnancy for Queer Women
Nicole Marsden, Self-Efficacy in the Transition to Parenthood
Kathryn Rosenberg, Clinical Work with Adult Male Incest Survivors: Therapeutic Themes and Perspectives
Angel Tseng, Emergent Themes in Identity Development for Transgender Women of Color: An Interpretative Phenomenological Analysis
Gabriela Olavarrieta, Experiences of Latinx' adult transition to the U.S. and the clinical implications that arise in acclimating into the dominant culture: An Interpretive Phenomenological Analysis
Jennifer J Trimpey, An Exploration of Social Networking Use and Mental Health in the Gender Non-Conforming Population
Liliana Campos, Mental Health Outcomes of Various Types of Fear Under the Donald Trump Administration among University Students who have Undocumented Legal Status
Alexa K. Carbajal, Choices: An Evaluation of a Program Aimed at Reducing Criminogenic Thinking Among Incarcerated Women
Courtney L. Hurd, A Thematic Approach to Understanding Compassion Fatigue, Burnout, and Barriers to Self-Care in Pediatric Healthcare Providers of Medically-Ill Children
Charrin I Kimble, Black Women Surviving Sexual Trauma: The Cultural Components Used to Aid in Recovery
Stephanie Lin, Examining the Experiences of Chinese Multilingual Therapists in Training
Anthony Saroyan, The Role of Stigma On Mental Health Service-Seeking for Armenian-American Men
Denton M. "Beau" Scott, Efficacy of Integrated Mental Health Care with Dual Diagnosis Patients and Their Utilization of Psychiatric Emergency Services
Joy L. Ventura Riach, The Effectiveness of a Transaffirmative Cognitive Behavioral Therapy Group-Based Intervention to Help Transgender Women Suffering from Depression
Kristopher C. Kern, Impact of Moral Injury for Ethnic/Racial Minority Male Veterans
Swap Mushiana, Patient Reported Outcomes in Sickle Cell Disease Examined Within a Conceptual Model
Alicia M. Ranucci, Effect of Prenatal Yoga on Depression, Anxiety, and Maternal-fetal Attachment Among Pregnant Black, Indigenous and People of Color
Conor Smith, Understanding the Healthcare Experiences of LGBTQ+ People: An Adaptation of the Daily Heterosexist Experiences Questionnaire
Kelsey Maki, Stigma and Social-Emotional Health in Youth with Learning Difference
Jennifer M. Zanoli, The Effects of Acculturation, Religiosity, and Marianismo on Pregnancy Related Anxiety in Latina Women
Laura R. Marker, Provider Perspectives: Working Clinically with the Male Lifer Reentry Population

Kate G. Jablonski, Minority Stress, Social Support, and Mental Health Among LGBQP+ Religious Disaffiliates
Lindsey R. Rogers, "Made of Queer Magic": Understanding the Experiences of Pregnancy for Queer Women
Nicole Marsden, Self-Efficacy in the Transition to Parenthood
Kathryn Rosenberg, Clinical Work with Adult Male Incest Survivors: Therapeutic Themes and Perspectives
Angel Tseng, Emergent Themes in Identity Development for Transgender Women of Color: An Interpretative Phenomenological Analysis
Gabriela Olavarrieta, Experiences of Latinx' adult transition to the U.S. and the clinical implications that arise in acclimating into the dominant culture: An Interpretive Phenomenological Analysis
Jennifer J Trimpey, An Exploration of Social Networking Use and Mental Health in the Gender Non-Conforming Population
Liliana Campos, Mental Health Outcomes of Various Types of Fear Under the Donald Trump Administration among University Students who have Undocumented Legal Status
Alexa K. Carbajal, Choices: An Evaluation of a Program Aimed at Reducing Criminogenic Thinking Among Incarcerated Women

Courtney L. Hurd, A Thematic Approach to Understanding Compassion Fatigue, Burnout, and Barriers to Self-Care in Pediatric Healthcare Providers of Medically-Ill Children
Charrin I Kimble, Black Women Surviving Sexual Trauma: The Cultural Components Used to Aid in Recovery
Stephanie Lin, Examining the Experiences of Chinese Multilingual Therapists in Training
Anthony Saroyan, The Role of Stigma On Mental Health Service-Seeking for Armenian-American Men
Denton M. "Beau" Scott, Efficacy of Integrated Mental Health Care with Dual Diagnosis Patients and Their Utilization of Psychiatric Emergency Services