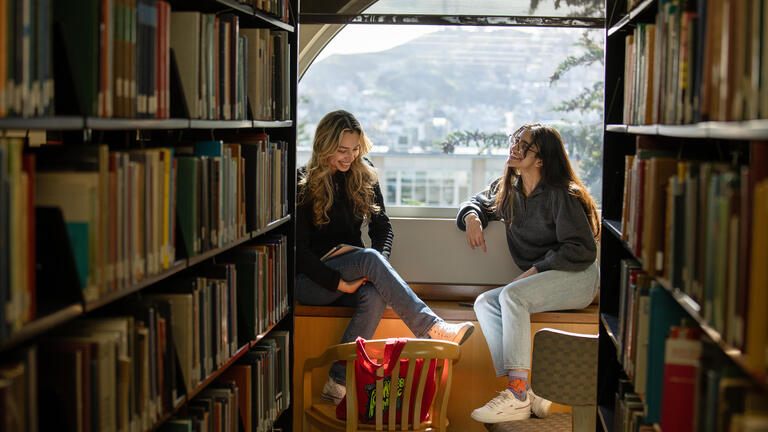 When you leave USF with an English degree, you'll possess a core skill set that makes you highly desirable to recruiters across multiple job markets and graduate programs.
Build Your Skillset
Being able to read and digest a large volume of text, concisely summarize its content, and deliver an informed and thoughtful opinion about the work is a competency prized in areas that range from law to marketing to academia. Indeed, graduates of USF's English Department currently hold jobs as editors, novelists, general counsels, marketing directors, professors, and UX designers... just to name a few of the career paths that are available to you upon graduation.
While at USF, I always loved and appreciated the enthusiasm and heart of independent publishing that's so unique to San Francisco, and the amazing local authors I studied and engaged with."
Alex Casey '16 Author of Permanent Jet Lag
USF English majors intern, work, and study all over the place. Here are just some of them.
Internships
African American Shakespeare Company
Arion Press
City Lights
Green Apple Books
KTVU News
KQED
Litquake
Omnidawn Publishing
Poetry Flash
San Francisco Chronicle
Seven Teepees Youth Program
826 Valencia
Wake International
Employers
AirBnB, Community Organizer
Amazon Publishing/Thomas & Mercer, Acquisitions Editor
Apple, Quality Analyst
Blasting News, Journalist
Business-Software.com, Editor, Writer, and UX Designer
Campaign US, Platforms Reporter
Essex Property Trust, Marketing Coordinator
Friends of the San Francisco Public Library, Outreach Manager
Gap, Copywriter
Gateway Charter School, English Teacher
Humanities Montana, Program Officer
IMG, Literary Agent
Mount Madonna School, Teacher
Rain Taxi Review of Books, Book Critic
Riverdale Country School, Videographer
San Jose State University, Faculty member
Seattle Humane, Content Creator
Shippensburg University, Professor
SpaceWorks, Communications Manager
T Brand Services/The New York Times, Director of Content Strategy
Trinity Ventures, Director of Marketing
Teach for America, Teacher
The Wish, Content Manager
Twitter, Creative Strategy Coordinator
UPBrand Collaborative, Writer
Updater, Digital Content Manager
YouTube, Associate Partner Account Manager
Graduate Schools
Boalt (UC-Berkeley) Law School, JD
Brown University, PhD English
Cal Arts MFA Critical Studies/Creative Writing
Columbia University, MFA
Iowa Writers Workshop, MFA
Lancaster University, MA Creative Writing
New York University, MFA
New York University, MA Journalism
San Jose State University, MA Library and Information Science
Santa Clara University, MA International Education
Sorbonne, MA Comparative Literature
Stanford, MA East Asian Studies
University of British Columbia, PhD English
University of California-Santa Barbara, PhD Comparative Literature
University College London, MA Comparative Literature
University of Chicago, MA Humanities
University of Massachusetts, Amherst, MFA
University of Nevada-Las Vegas, MFA
University of San Francisco, MFA
University of San Francisco School of Education, MEd
University of Southern California, PhD English
Washington University, St. Louis, MFA Creative Writing
Westminster College, MA Teaching