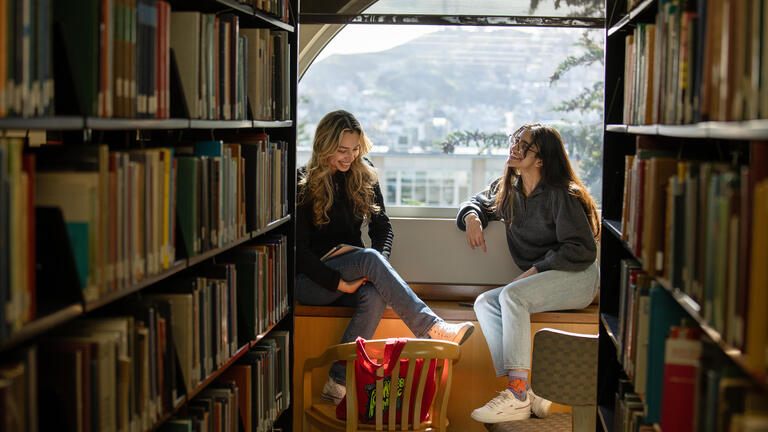 Every spring semester, the English department offers Literature & Writing Internships, a course that enables students to complete an internship in the Bay Area while also receiving USF course credit. Its main mission is introducing students to the expectations and requirements for working in the writing and publishing fields. In the classroom, this course will focus on the role of writing and literature in a professional environment and around the world.
Internship Opportunities
826 Valencia: 826 Valencia is a nonprofit organization dedicated to supporting students ages six to 18 with their creative and expository writing skills and to helping teachers inspire their students to write.
Aunt Lute Books: Aunt Lute Books is a nonprofit multicultural women's press based in San Francisco.
Berrett-Kohler Publishers: Independent publisher of business books on management, leadership, career development, and global sustainability.
Chronicle Books: Chronicle Books is an independent publisher offering bestselling books, children's books, personalized books, and other specialty gifts.
City Lights Publishing: City Lights is a place where booklovers from across the country and around the world come to browse, read, and soak in the ambiance of alternative culture's only "literary landmark."
Commonwealth Club: The Commonwealth Club of California is the nation's oldest and largest public affairs forum.
Poetry Flash: Poetry Flash publishes reviews of poetry and literary fiction, poems, interviews, essays, and submission and award information for all creative writers—poetry, fiction, and creative nonfiction, online and in print.
Salon Media Group: Salon.com covers breaking news, politics, culture, technology, and entertainment through investigative reporting, fearless commentary and criticism, and provocative personal essays.
Seal Press: Seal Press has a distinguished reputation for publishing books of incredible variety and depth.
Seven Tepees: At Seven Tepees, youth learn and practice the academic and social competencies necessary to be successful in the 21st century.
USF Media Relations: USF Media Relations draft news releases, media advisories, calendar listings, and other materials to publicize news of faculty research, academic programs, and newsworthy university happenings.
Zoetrope: In 1997, Francis Ford Coppola launched Zoetrope: All-Story, a quarterly magazine devoted to the best new short fiction and one-act plays.