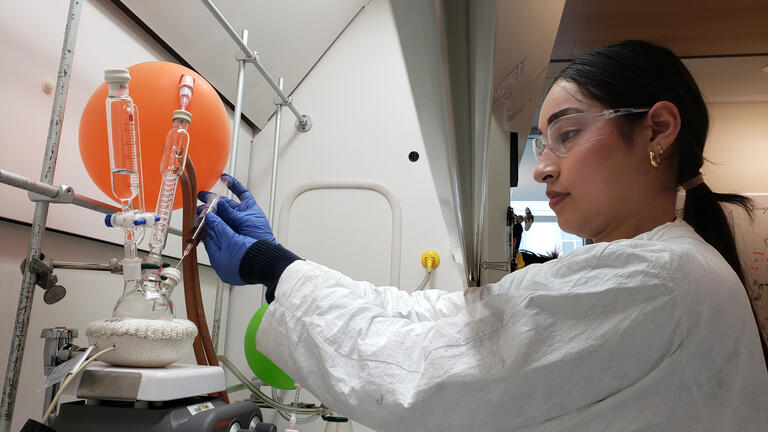 Chemistry, BS
Discover the chemical world in motion around us
Do hands-on research in a lab stocked with equipment you'd typically find at a much larger university. Explore the physical and chemical systems that surround us.
Come to USF and gain skills necessary for graduate school and careers in a variety of industries. Come participate in research projects led by full-time faculty members. Understand that social consciousness and ethical behavior are critical to the chemistry community.
Join our active and vibrant undergraduate research program. Work closely with faculty mentors. You may be credited for contributing key experimental results and insights to projects later published as research papers in peer-reviewed journals.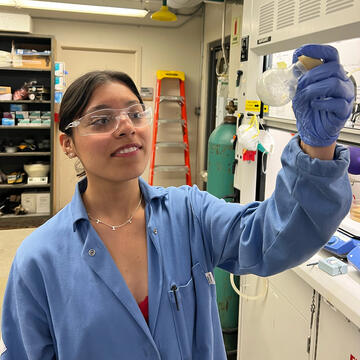 Pre-Med & Pre-Health

Professions Advising
Your path to a career in health professions starts here. University of San Francisco pre-health advisors are here to help with prerequisite courses, application recommendations, and career information.
Work With Our Faculty
Study with experts in chemical biology, inorganic chemistry, physical chemistry, organic chemistry, analytical chemistry, biochemistry, and computational chemistry. Our professors ensure you a curriculum that reflects the latest research in all areas of the field.
American Chemical Society Student Chapter
The ACS USF Student Chapter hosts seminar speakers, arranges field trips to local labs and museums, and organizes community outreach projects.
Faculty Spotlight
Janet Yang has received a grant of $419,312 from National Institutes of Health for her project titled "Mechanisms of Substrate Selectivity and Transport by a Bacterial Methionine ABC Importer". This proposal seeks to understand how prokaryotic ABC importers uptake nutrients that are crucial for survival, and these findings could provide new targets for treatment against bacterial pathogens. Towards this end, Dr. Yang will employ biochemical and biophysical methods to dissect how the E. coli MetNI transporter, an established model system, transports methionine from the periplasm to the cytoplasm.
2130 Fulton St.
San Francisco, CA 94117
Hours
Mon-Fri, 8:30a.m. - 5p.m.