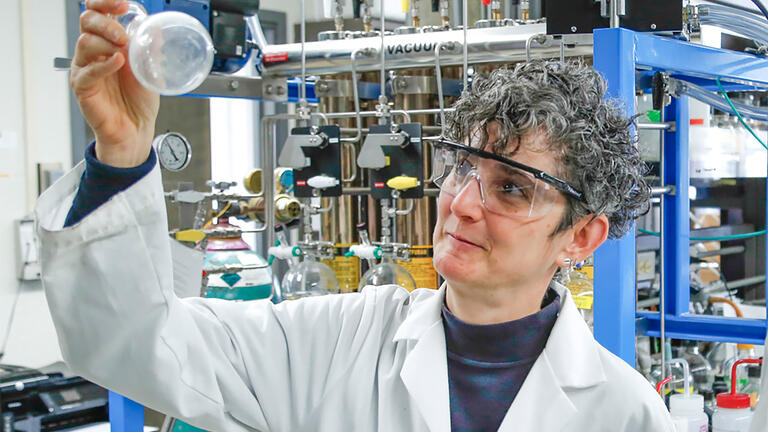 Our department boasts an active and vibrant undergraduate research program. In addition to receiving course credit for participating in independent research, our students gain invaluable experience in planning and implementing experiments, analyzing data, troubleshooting, and presenting their accomplishments in both informal and professional settings.
Involvement with research projects are not only directly applicable to successful careers in chemical research, but also in post-graduate work and other employment opportunities where critical thinking, analytical skills, and the application of theory to practice are valued.
Undergraduate Co-Authored Research Papers
Undergraduates are very often credited for contributing key experimental results and insights to a project that is later published as a research paper in a peer-reviewed scientific journal. Names of USF undergraduates are shown in bold.
Undergraduate Awards
Our undergraduate researchers have been the recipients of a variety of awards based on their research.
Arthur Furst Award - Open to all undergraduates at USF.
Barry Goldwater Scholarship - National competition for sophomores and juniors.
American Chemical Society Awards - Women Chemists Committee (WCC) Travel Grant - National competition for graduate and undergraduate women chemists to travel to an ACS national meeting.
Achievement Rewards for College Scientists (ARCS) Award - National competition for undergraduates with an outstanding academic record majoring in the sciences, engineering, and medicine.
Student Research Presentations at Conferences
In addition to the rigorous coursework in chemistry at USF, research plays a major role in students' training and development. Our undergraduate and masters' students work alongside faculty mentors on projects, publish papers, and present their work at local, regional, and national conferences. Here are some of the recent presentations by USF students at scientific meetings.
Marisa Poveda (MS, 2020)
258th ACS National Meeting, San Diego, August 2019
Poster: Effect of a coordinating pyridine moiety on the SAP and TSAP isomer populations of bimodal Lanthanide (III) complexes

Brooke Aloe (BS, 2020)
31st Annual ACS Northern California Undergrad Research Symposium, Santa Clara University, May 2019
Poster: Impact of Quinoline Amide Substituents on the Luminescence and PARACEST MRI properties of Bimodal Europium (III) Complexes

Cyril Fong (BS, 2019) and Adam Wedrychowski
31st Annual ACS Northern California Undergrad Research Symposium, Santa Clara University, May 2019
Poster: Investigating the Impact of Bound-Water Exclusion on the PARACEST MRI and Optical Properties of Lanthanide (III) Complexes

Holly Clancy (BS, 2021) and Megan Martin (BS, 2021)
31st Annual ACS Northern California Undergrad Research Symposium, Santa Clara University, May 2019
Poster: Synthesis of a Zn(II)-Responsive ParaCEST MRI Agent for Improved Diagnosis of Prostate Cancer

Gabrielle Servito (BS, 2019)
American Society of Biochemistry & Molecular Biology Meeting, Orlando, CA, 2019
Poster: Examining the Bacterial Methionine Transporter Utilizing Soluble Lipid Bilayer Systems

Lyle Ureta (BS, 2019)
American Society of Biochemistry & Molecular Biology Meeting, Orlando, CA, 2019
Poster: Heavy Metal Transport by the ABC transporter Atm1

Heejune Park (MS 2019)
257th ACS National Meeting, Orlando, FL, March 2019
Poster: Investigation of 2,5-Dimethylfuran Oxidation Reaction Initiated by O(3P) atoms via Synchrotron Photoionization
255th ACS National Meeting, New Orleans, LA, March 2018
Poster: Reduction of CO2 and N2 using the Li3F2 superalkali

Erica Carrasco (MS 2018)
255th ACS National Meeting, New Orleans, LA, March 2018
Poster: Synchrotron Photoionization Study of Furan and 2-Methylfuran Reactions with Methylidyne Radical (CH) at 298 K

Adam Otten (MS 2018)
253rd ACS National Meeting, San Francisco, April 2017
Poster: Synchrotron Multiplexed Photoionization Mass Spectrometry of Cl-Initiated Oxidation of Tetrahydropyrane (THP) at 298, 550, and 650 K

Matthew Winfough (MS 2018)
253rd ACS National Meeting, San Francisco, April 2017
Poster: Photoionization Cross Sections of Three Propargylic Fuels

Philip Lampkin (BS, 2019)
31st Annual ACS Northern California Undergrad Research Symposium, Santa Clara University, May 2019
Oral Presentation: Tunneling By 16 Carbons: Planar Bond Shifting in [16]Annulene

Philip Lampkin (BS, 2019) and Jonathan Shezaf (BS, 2019)
257th ACS National Meeting, Orlando, FL, April 2019
Poster: Heavy-Atom Tunneling in the Planar Bond Shifting of [16]Annulene