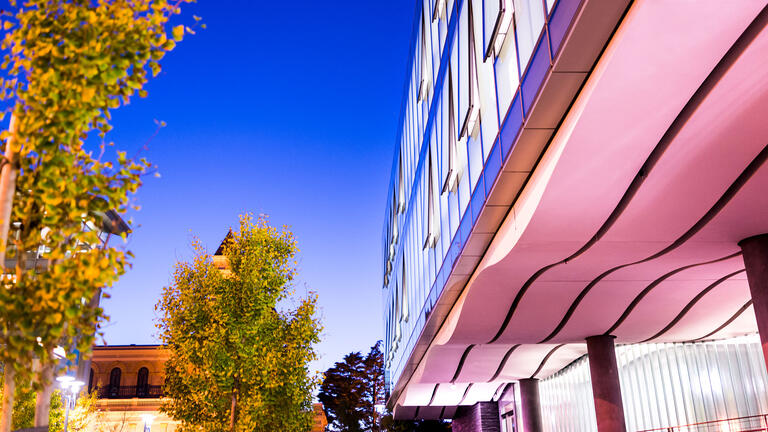 Architecture, BA
Advisory Board
The Advisory Board contributes to an enduring relationship between the USF Architecture program and the Bay Area professional community that, framed by the University's Vision, Mission and Values Statement, will enhance the potential of the Architecture program and its students.
Yakuh Askew
Yakuh Askew, NOMA, AIA, LEED AP, is the founder and principal of Y.A. studio, a San Francisco based architectural practice. At Y.A. studio, Mr. Askew has built a design team that excels in the design of restaurants, offices and both single-family and multi-family residences; however, he takes particular pride in his work on over 1200 permanently affordable residential units within San Francisco. Diversity, equity, sustainability and social responsibility are key focuses of Mr. Askew, professionally and personally. Mr. Askew is a member of the San Francisco Arts Commission, a member of the Civic Design Review Committee, and a Director at Large for the AIASF Board.
Lilian Asperin
As one of the studio's Partners, Lilian helps lead the design process and build teams that deliver aspirational outcomes. A leader within the Society for College and University Planning (SCUP), she is the 2018-2021 Pacific Regional Chair. Committed to advancing the practice of architecture, Lilian also has served as a Board Director of AIA San Francisco and is the Co-Chair of the Equity by Design Committee, a call to action for equitable practice and to communicate the value of design to society.
Sandy Blair
Sandy Blair is Vice President and Regional Manager of the San Francisco Office of Marx|Okubo Associates Inc. She directs operations and Marx|Okubo's work in the Northern California region. She oversees client relationships, while allocating human resources, managing schedules, and collaborating with other regions. Sandy has been engaged in the fields of architecture and construction for more than two decades, including design/build work in the San Francisco Bay Area, where her responsibilities have included design development, construction document preparation and construction observation involving various residential, retail, and commercial facilities. Additional duties have included managing subcontractors, construction planning, budgeting, scheduling, permitting, and inspection of construction quality. Sandy earned her bachelor's degree in architecture from the University of California - Berkeley. She is a licensed architect in California and a member of the American Institute of Architects, as well as a Certified Access Specialist (CASp) in California. Sandy has been part of the firm's Board of Directors since 2013.
Charmaine Curtis
Charmaine Curtis is a residential real estate developer with a 30+ year track record developing both market rate and affordable housing throughout the Bay Area. Her career encompasses a diverse portfolio of work; one that speaks to her unique perspective as an African-American woman who values providing housing for individuals and families at all income levels and developing pioneering, vibrant, mixed-use urban infill projects. Before starting her own company in 2004, she was the President of A. F. Evans Development where she oversaw the development of 4,000 units of both market rate and affordable housing. Earlier in her career, she was the Director of Housing Development for Mercy Housing California. Charmaine began her career as an urban planner with a Master's degree from U.C. Berkeley and received a B.A. from Dartmouth College. She is a member of the Golden Gate National Parks Conservancy board of directors and serves on the board of the Homeless Prenatal Program in San Francisco. In 2020, she was recognized as one of the 100 most influential women in business by the San Francisco Business Times.
Raymond Lucchesi
Raymond Lucchesi RA, LEED AP is a Principal at Regenesis, whose work is partnering people and their place to regenerate ecosystems and the human spirit. Ray has 40 years of experience in the built environment as an architect and planner practicing regenerative development, sustainable and integrated design, biomimicry and interpretive planning. As an architect, Ray has been involved in several projects obtaining LEED Certification, including the Springs Preserve and Desert Living Center and Garden, which produced seven LEED Platinum buildings. Ray graduated from Arizona State University with an emphasis in arid-region ecosystems and passive-design. He also planned and led the development of the University of Nevada, Las Vegas School of Architecture, was the Founding Director, and on the faculty for 25 years.