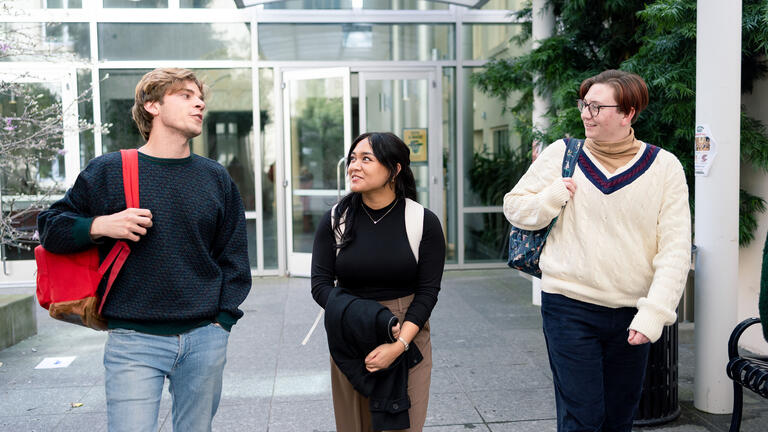 Museum Studies, MA
How to Apply
Applications for Fall 2023 are open, and we will continue to review for Fall admission. We recommend you submit your application as soon as possible.
The application process is entirely online. Please complete and/or upload all of the items listed below to your application account. There is no need to mail items to our office.
Bachelor's Degree
A Bachelor's degree is required for admission. A GPA of 3.0 or higher is recommended though not required. There is no expected or favored major for entry into the program; admitted students have wide-ranging degrees in anthropology, art history, biology, business, environmental science, history, English, journalism, psychology, sociology, studio art, photography, design, chemistry, law and education, amongst others.
Test Requirements
The GRE is not required.
Unless explicitly noted in the Graduate English Language Proficiency section of the International Admissions webpage, all international students from non-English speaking countries must submit scores from one of the following testing agencies: TOEFL, IELTS, PTE or the Duolingo English Test.
Transcript (Academic Record)
Our program requires an official copy of transcripts from any university or college attended for which you have received a letter grade. Transcripts from any transfer schools and study abroad programs must also be submitted. If still enrolled in your Bachelor's program, submit a copy of your transcript showing in-progress courses. If admitted, an official transcript with proof of graduation will be required. USF undergraduates upload their unofficial transcripts for admission review and do not need to send an official USF transcript.
Statement of Purpose
Question 1: In approximately 500 words, please answer the following prompt: Why do you wish to pursue a Master's Degree in Museum Studies? What skills do you hope to gain from USF's program, and how do you envision leveraging your degree to make a positive impact in the field?
Optional Portfolio
We strongly encourage Museum Studies applicants to provide portfolio items that document work experiences, internships, prior academic work, and/or volunteer activities at museums and cultural and heritage organizations. Portfolio items may help to supplement your Statement of Purpose.
Please note that providing portfolio items is optional for all applicants.
Upload up to 5 portfolio items with a maximum of 5 GB in size for each item. Please do not mail or email portfolio items directly to the Museum Studies Program or to the Office of Graduate Admission. Please ensure your uploads are no more than 20 pages in combined length.
Supplemental Application Questions
These questions are built into the online application. Applicants do not need to upload them to the application portal.
Question 1: In no more than 200 words, please list the museums, exhibits, gallery openings, museum lectures and museum-related events you have attended that have made a significant impact on your professional and personal worldview.
Optional: If there are any extenuating circumstances that you would like the admissions committee to take into consideration when reviewing your application, you may list those circumstances here (e.g. an academic semester or year in which you struggled, familial circumstances, a learning disability etc.) (200 words max)
Resume or CV
Your current resume or CV lists and describes your educational history, work or job history, coursework related to museum studies, and any other experiences relevant to your pursuit of graduate studies – including internships, published articles or other published materials, volunteer/community service experience, study or work outside of your home country.
Letters of Recommendation
Two letters of recommendation letters are required. Unless granted explicit exemption by the Program Manager, one of these letters must be from a professor. Letters are submitted by individuals who can attest to your research capabilities, writing skills, and intellectual curiosity– all traits required by our program.
The online application will provide clear information on how to submit the information required for your recommendations.
You may submit your application before your recommenders upload their letters, however please note that your application will not be complete (and thus will not be reviewed) until both letters of recommendation have been received. To that end, be sure to contact your recommenders as soon as possible and give them ample time to prepare and submit your recommendations.
International Applicants
There are additional items and instructions for international applicants.
Notification of Admission Decision
Application review begins after the February 1st priority date. Admission decisions will begin 4-6 weeks after the priority deadline.
For applicants who apply by the final deadline of April 1st, admissions decisions will be released by May 1st.