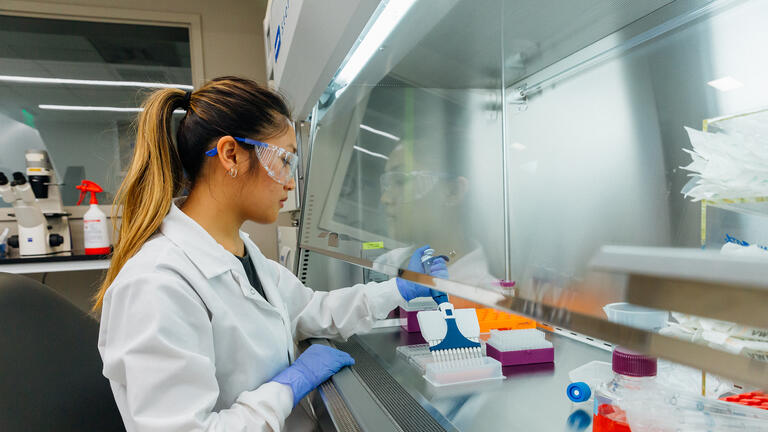 Biotechnology, PSM
Biotech lives in San Francisco
In the world's largest biotech hub, combine lab research with business in topics ranging from business development to ethical manufacturing. Our program is situated among the greatest concentration of biotechnology activity in the world, with over 200 biotech companies in the Bay Area. Over 90% job placement or PhD program from our last three cohorts.
The Fall application is open. The application date for next Fall is February 15.
A Flexible Biotechnology Graduate Program
All required classes are held in the late afternoon to evening, allowing students to continue in their full-time jobs or find part-time or full-time jobs in the industry while enrolled in our two-year program.
Program Overview Talk to an Advisor
In the Heart of Biotech: Bay Area Internships
Internships are a key feature of the program. The San Francisco Bay Area is at the center of biotechnology in the United States. These internships have often led to full-time positions for our students after completion of the program.
A PSM Program Developed With Employers
Our professional science master's (PSM) program gives students advanced training in the sciences while developing highly sought-after business skills. Each PSM degree is developed in concert with employers as preparation for science-based careers in innovative organizations and industries. Since most biologists are trained with few or no business tools, the PSM offers more versatile training than a traditional master of science degree.
December 5, 2023 9:30AM - 10:30AM
Online Virtual Information Session
Cary Lai, Program Director
2130 Fulton St.
San Francisco, CA 94117-1080
Stay connected. Sign-up for our semi-annual newsletter.