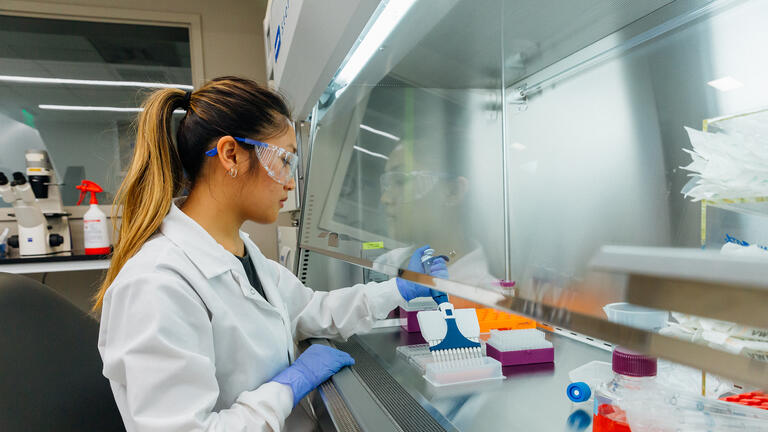 Biotechnology, PSM
Financial Aid
Merit-Based Scholarships
The biotechnology program offers a limited number of scholarships to new students. These program scholarships are merit-based, vary in amount, and cover part of tuition costs. All applicants, both U.S. and international students, are considered for these scholarships during the admission decision process; a separate application is not required. If a scholarship is awarded, it will be indicated in the admission letter.
The Dean's Scholarship
The Dean's Scholarship grants recipients compensation for research and for conference travel. Additional benefits include the Dean's Scholar kickoff and reception, connection with other Dean's Scholars and with leaders across the college, and the chance to serve as program representatives to USF donors and Development initiatives.
To be considered for the $15,000 Dean's Scholarship towards their first year of tuition, students must apply by the program's priority deadline.
Diversity Scholarship
Eligibility for this scholarship includes membership in an underrepresented group in biotechnology and a clear intention to become a biotechnologist who will contribute to increasing diversity and cultural competence in the field (as articulated by the applicant's essays).
To apply for this scholarship, applicants should submit the following essay along with other application materials:
A one-page essay (up to 400 words) demonstrating how diversity impacts your long-term career goal(s).
The Schmidt Family Foundation Fellowship
The Schmidt Family Foundation aims to diversify the environmental sector and to enable students to pursue studies that will eventually lead to a related career in the industry. The Schmidt Family Foundation Fellowship is awarded to a student who is focusing their research on topics related to the environment, sustainability, and agriculture, and food security. This fellowship is awarded once per year.
Internships
The biotechnology program has an internship requirement. Whether the internships are paid or unpaid is determined by the external companies or organizations that offer them.
Christina Tzagarakis-Foster, Program Director
2130 Fulton St.
San Francisco, CA 94117-1080