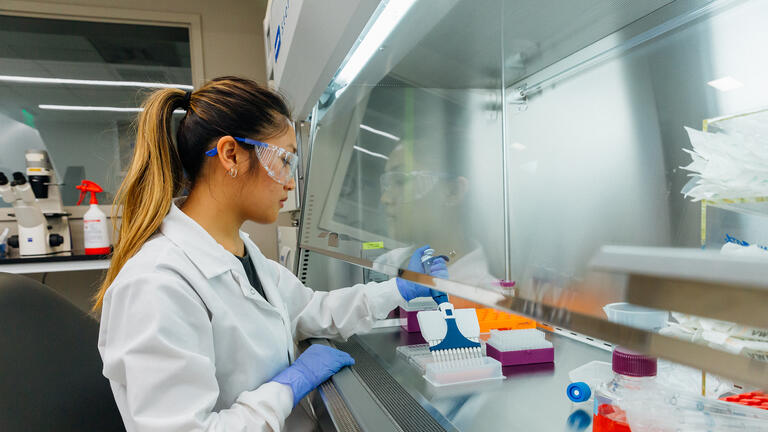 Biotechnology, PSM
Advisory Board
The Professional Science Master's in Biotechnology has been designed with direct input on curriculum from the advisory board.
Board members have been asked to serve based on their direct industry connections and ability to provide insight on the skill sets and tools that are most needed in the industry. Members have also committed to assisting with internship positions, attending networking events, and aiding in job placement of graduates.
Richard Cutler Jr, PhD
Advisory Board Chair
Vice President of Clinical Sciences
Kronos Bio
Roel Funke, PhD
Senior Director
PACT Pharma
Jacob Glanville, PhD
Founder and CEO
Centvax
Paul Hastings
CEO
Nkarta
Caitlin Koski, PhD
Scientist II
Amunix Pharmaceuticals
Mike Lelivelt, PhD
Vice President of Software Product Management & Marketing
Illumina
Nicole Miller, PhD
Molecular Diagnostics
Ultragenyx Pharmaceutical Inc.
Ron Najafi, PhD
Founder and CEO
Emery Pharma Services
Kathryn Najafi-Tagol, MD
Ophthalmologist
Eye Institute of Marin
Michelle Nemits
Executive Director
Biocom Bay Area
Rich Price, PhD
Oncology Strategic Analyst
Genentech, Inc.
Cale Reid, PSM Biotech
Platform Product Manager
Salvo Health
April Ryles, PSM Biotech
Senior Manager, Regulatory Affairs
Mirum Pharmaceuticals
Reginald Smith, MBA
Principal Quality Assurance Professional
Abbott Diagnostics
Jacinto Villanueva, PhD
Director of Protein Affinity Reagent Discovery
Nautilus Biotechnology
Jeff Wallin, PhD
Senior Director
Gilead Sciences
Vince Wu, PhD
Principal
VLW Associates, Inc.