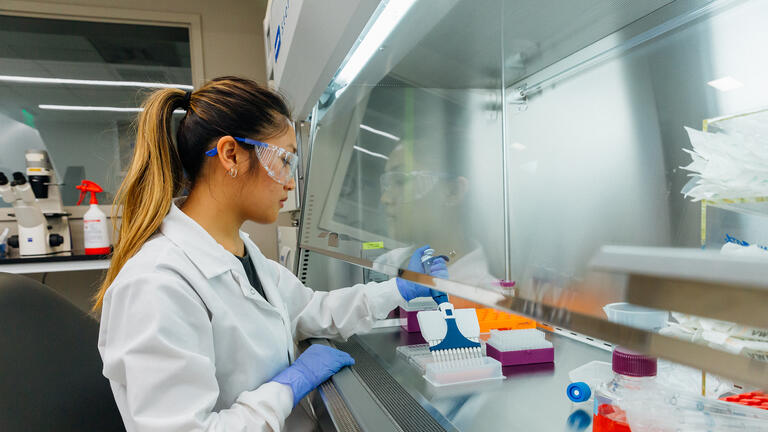 Biotechnology, PSM
Career Outcomes
Our graduates take advantage of being in the Bay Area — the largest biotech cluster in the country — and now work with many established biotech companies, as well as start-ups, that are using cutting-edge technology to shape the future.
Meet Sarah Ives
Sarah Ives, a biotechnology graduate, and Jacob Glanville, Master's Program Board Member, are working to make the world a healthier place.
Class of 2022

Compensation
Disclaimer: The salary data is collected and evaluated based on the information provided by LinkedIn, Indeed, PayScale, and Salary.com.
Employers
A partial list:
10x Genomics
Alector
Calico Life Sciences
Cargill
Centivax
Denali Therapeutics
Guardant Health
Lawrence Livermore National Laboratory
Lyell Immunopharma
Nkarta Therapeutics
Synthego
Yali Bio
Labs in the biotech program gave me the time and space to practice technical skills, which I now use everyday at work."
Stephanie Martin '17
Job Titles
A partial list:
Associate Scientist
Clinical Study Coordinator
Principle Research Associate
Production Associate
QC Manager
Quality Assurance Specialist
R&D Scientist
Research Associate
Research Associate II
Research Scientist
Senior Data Analyst
Senior Research Associate
Senior Scientist
Cary Lai, Program Director
2130 Fulton St.
San Francisco, CA 94117-1080