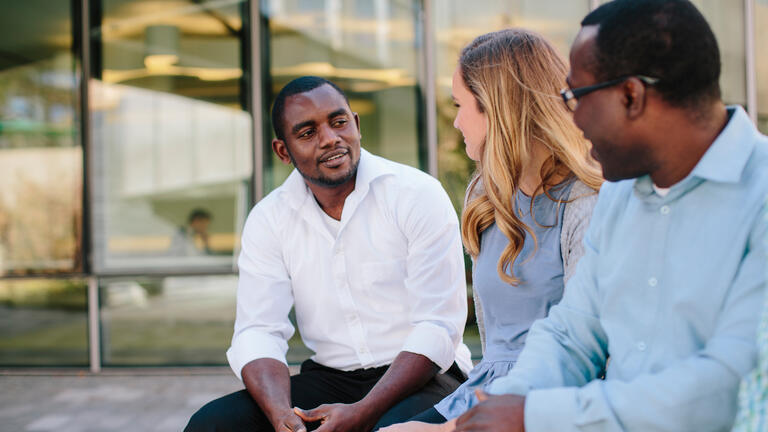 Applied Economics, MS
Financing Your Education
Scholarships & Fellowships
We offer a number of partial, one-time scholarships to new students, and no separate application is needed. They are limited in number, vary in amount, and cover only part of tuition costs. All students applying to the Applied Economics program are considered for these scholarships during the admission decision process. All scholarships are distributed evenly over the four semesters of the graduate program, with the continuation of the scholarship into the second-year scholarships conditional on strong academic performance in the first-year curriculum.
These scholarships will be allocated to eligible students based on an applicant's professional potential, as indicated by academic performance, reference letters, personal statements, work experience, and other application materials. Criteria for these scholarships are outlined below.
Program Scholarships. All applicants are considered automatically for program scholarships during the application review process, based on the academic and professional promise shown in their application materials. These scholarships can reach up to $10,000.
Eligible students will also be considered for one of three scholarships aimed at broadening the range of perspectives in the economics discipline and providing opportunities to groups that have historically been underrepresented in the discipline. Each of these scholarships is in the amount of $10,000.
The Women in Economics Scholarship is awarded to a woman-identified applicant and is aimed at addressing the underrepresentation of those who are women-identified in the economics profession. Any woman-identified or non-binary applicants will be considered for this scholarship.
The Global Scholars in Economics Scholarship is awarded to a student from a developing economy. This scholarship is aimed at rectifying the US-centric perspective of the economics discipline and providing opportunities for scholars who may be able to use the insights of economics to contribute to the development of their home countries.
Diversifying Economics Scholarship is awarded to a student who comes from a historically underrepresented racial and ethnic minority group or is a first-generation college student. This scholarship is primarily intended for American citizens and permanent residents.
The Dean's Scholarship
The Dean's Scholarship grants recipients compensation for research and for conference travel. Additional benefits include the Dean's Scholar kickoff and reception, connection with other Dean's Scholars and with leaders across the college, and the chance to serve as program representatives to USF donors and Development initiatives.
To be considered for the $15,000 Dean's Scholarship towards their first year of tuition, students must apply by the program's priority deadline.
Additional Scholarships
Besides the scholarships mentioned above, below are two additional scholarships that admitted students could be eligible for either at admission or after their first-year.
2nd Year Merit Scholarships of up to $3,000 are awarded to the ten full-time master's students who had the strongest academic performance in their first year of graduate coursework.
Teaching and Research Assistantships
Teaching Assistantships – Each semester, several teaching assistantships are available to qualified current students to assist faculty with graduate and undergraduate economics courses. Qualified students can apply after their first semester in the program. These positions are paid hourly and do not provide tuition remission.
Research Assistantships – These positions provide an opportunity to develop research skills under supervision of a faculty member. They are also paid hourly.
On-Campus Student Employment
Enrolled students can apply for student employment opportunities on campus to earn additional income towards tuition or day-to-day expenses. International students are eligible to work on campus for up to 20 hours per week during the semester and up to 35 hours during summer period and intersession.
Non-USF Financial Aid
Admitted students can also seek out non-USF financial aid to fund their graduate education.