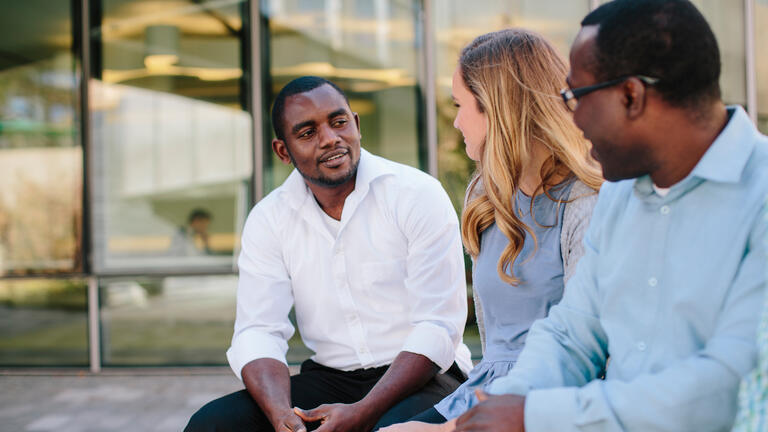 Applied Economics, MS
Frequently Asked Questions
Program Details
Full-time graduate students typically take nine credits per semester. Each class is three credits, so that works out to three classes per semester.

Many of the Master's in Applied Economics courses are offered in the evening so it is possible to structure your studies part-time.

The Applied Economics degree is for students who are interested in understanding and working in the digital economy. Students learn programming and data science skills alongside their economics coursework. Typical career objectives are business analytics or data science roles in Bay Area tech firms.

The International and Development Economics (IDEC) Program, in contrast, is oriented toward field research methods and quantitative techniques for causal identification, especially relevant for understanding development. The IDEC Program has a strong independent research component that culminates in the writing of a master's thesis, often based on field research conducted abroad. Students typically pursue careers in international development, public policy, or the economics department of firms.

Both programs are quantitatively rigorous, providing a strong foundation in highly-valued data analysis skills. Students in either program are welcome to take courses in the other program as electives and may collaborate with each other on research projects. Both programs are also excellent preparation for students considering a Ph.D.
How to Apply
A GPA of 3.2 or higher strengthens an application. In reviewing applications, the program director looks for a strong background in math and some programming experience. The more math and the higher the level of math taken strengthens an application. Generally speaking, most accepted students typically have a GPA of 3.4 or higher.

No, the GRE is not required. However, you may submit a GRE or GMAT test score as extra supporting documentation if you feel it strengthens your application. This may be particularly useful if your prior quantitative coursework is comparatively light. Visit our Office of Graduate Admission How to Apply page for other test requirements.

Visit our Office of Graduate Admission How to Apply page for other test requirements.

The priority application deadline for fall applications is February 1st. Completed applications on file (includes a Certificate of Finance and a TOEFL score for international students) at this time will be reviewed for admission and for a limited number of scholarships. Fall applications completed after the February 1st, deadline will be considered for admission on a case-by-case basis.

The program only begins in fall; there is no spring start.

In rare instances, a limited number of graduate credits may be transferred from another program, subject to the evaluation of the program adviser. This process of evaluation would take place after a student is accepted into the program and has his/her first advising session with the program adviser. Depending on the syllabus and evidence of coursework, the course may or may not be credited.

Applicants are typically contacted with an admission decision six to eight weeks after the priority deadline of February 1st, although some applicants receive a decision before that time. While applications are reviewed on a rolling basis, early submission does not guarantee an early decision. Applications completed after April 1 are reviewed on a space-available basis.

We must receive your non-refundable deposit (that is applied to your fall tuition) by the deadline indicated in your acceptance letter. If we do not receive your deposit by that deadline, we cannot guarantee a spot in the fall program.

Visit the Office of Graduate Admission How to Apply page for more info.
International Students
No, your TOEFL would automatically be waived.

Accepted students will receive their I-20 along with their acceptance letter. If the I-20 is not with the acceptance letter, it will come under separate mail within approximately 15 business days.