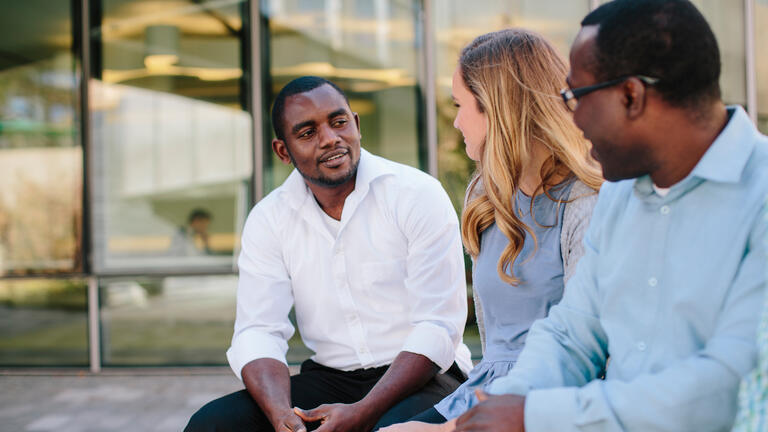 Applied Economics, MS
Advisory Board
The applied economics program advisory board is made up of leading experts in applied economic analytics from industry and the public sector. They help us ensure that the training we provide is exactly what our students need in order to excel in this ever-changing field.
Dr. Andrew Chamberlain is chief economist at Glassdoor. He oversees the research program at Glassdoor, providing analysis and commentary on labor market trends. He is an applied microeconomist who has written widely on labor markets and public policy. His work has been published in academic journals, cited in U.S. congressional testimony, and has been featured in the Wall Street Journal, the New York Times, the Washington Post, NPR, BBC and many others, and he is a regular guest on various television and radio programs. Previously Andrew was a policy economist in Washington, D.C. and chief economist at Columbia Economics, L.L.C. Andrew received his Ph.D. in economics from the University of California, San Diego, and bachelor's degrees in economics and business administration from the University of Washington in Seattle. [Andrew's Medium]

Sean Chu is a Senior Economist at Walmart, where he is driving innovation on the company's Sam's Club team. Previously, he was Chief Data Scientist at Sunrun, the residential solar energy company, and before that, he was a researcher at Facebook Data Science. In these positions, Sean has used economic modeling, experimentation, and machine learning to solve business problems through insights about consumer behavior, markets, and company operations.

Sean started his career as an economist at the Federal Reserve Board of Governors. His research agenda spans a range of topics including consumer behavior in credit markets, dynamic decision problems, the role of information in imperfectly competitive markets, and structural modeling of social networks. His work at the Fed also informed competition policy and financial regulation. Sean holds a PhD in Economics from Stanford.

Carolyn L. Evans is Chief Economist at Intel Corporation. Prior to joining Intel, Evans held the positions of associate professor of economics at Santa Clara University, senior economist at the Board of Governors of the Federal Reserve, senior staff economist for international trade on the President's Council of Economic Advisers, and economist at the Federal Reserve Bank of New York. She has published articles and books in the areas of international trade, political economy, global macroeconomics, and corporate finance. Evans is a member of the Conference of Business Economists, the Harvard University Discussion Group of Industrial Economists, the National Association for Business Economics (NABE), and the American Economic Association. She serves on the board of directors of NABE and the advisory board for the MS degree in business analytics at Santa Clara University. From Harvard University, Evans earned a PhD and master's degree in economics and a bachelor's degree in East Asian languages and civilizations. She also holds an MSc from the London School of Economics.

Daryl Fairweather is the chief economist of Redfin. At Redfin, she studies the North American housing market and leads a team of economists. Prior to joining Redfin she was a senior economist at Amazon working on problems related to employee engagement. Daryl received her Bachelor's of Science from the Massachusetts Institute of Technology and received her Ph.D. and Master's degrees in economics at the University of Chicago where she specialized in behavioral economics.

Liquan Huang is a Senior Economist at Google driving the growth of Google Maps. Prior to that, she was a Senior Economist in the YouTube Music team and the Core AI team at Amazon. Liquan has extensive experience in applying advanced causal inference and machine learning models to help inform strategic business decisions. Liquan received her Ph.D. in Economics from the University of Rochester and B.S. in Mathematics from the University of Science and Technology of China.

Jed Kolko is Chief Economist at the Indeed Hiring Lab. Previously he was Chief Economist and VP of Analytics at Trulia, the online real estate marketplace. He has also led research teams at the Public Policy Institute of California and at Forrester Research. Jed specializes in using large-scale proprietary and publicly available datasets to uncover insights about labor markets, the future of work, demographics, housing markets, and urban trends. He earned his B.A. in social studies and his Ph.D. in economics at Harvard University.

Maria (Cuky) Perez is a Data Science Manager at Airbnb where she currently works leading a group of 15+ data scientists in charge of supporting our Homes core business. In this role, she mentors data scientists of varying experience level and subject matter expertise (machine learning, inference, analytics). She also works closely with the cross-functional leadership team to provide the vision, project prioritization, and advise on product improvements and experimentation strategies. Before this role, she was the data science lead of Airbnb Plus for almost a year. Her responsibilities included guiding the team of data scientists to provide operational efficiency tracking (analytics), cost savings (via machine learning investments), and advise on how to measure our impact  (quasi-experimental methods). Before Airbnb she was an Assistant Professor of Public Policy at the Evans School of Public Policy at the University of Washington where she taught advanced methods in statistics, and program evaluation of public policies. Cuky completed her Ph.D. in the Economics of Education program at Stanford University in 2012. She received her professional degree in Economics from Pontificia Universidad Catolica de Chile, and a Master's degree in Economics at Stanford University. She was selected as an Emerging Education Policy Scholar in 2014, is the recipient of the Stanford Interdisciplinary Fellowship (SIGF) and the Spencer Dissertation Fellowship, and received the recognition of Rising Star Women of Color in Stem in 2017.

Nino Sitchinava is a Director of Data Science at Instagram/Facebook. Previously, she was principal Economist at Houzz, where she led Houzz's research on home building, renovation and design and was a manager at the prominent economic consultancy Analysis Group. She received her PhD from the University of Oregon.

Celine Sun is Head of Data Science, Growth at Dropbox, where her team works on machine learning modeling, causal inference, and experimentation to drive Dropbox's growth. Previously she was Sr. Director of Data Science at Wealthfront, an online financial advisor. Celine specializes in applying economic/econometric theory to business problems and delivering scaled solution. Celine received her Ph.D. in Financial Economics from the University of Washington.

Sean J. Taylor is a research scientist manager at Lyft, where he works on causal inference, experimentation, and structural modeling. Previously, he lead the Statistics team within Facebook's Core Data Science team, where he worked on experimentation, survey modeling, forecasting, and machine learning. Prior to Facebook, he earned his PhD in Information Systems from NYU's Stern School of Business as well as a BS in Economics from Wharton School. He specializes in using machine learning methods and randomized experiments for measurement, prediction, and policy decisions. Sean's research spans a wide range of topics: online social influence, social networks, statistical methodology, causal inference, and Bayesian modeling. He is also an avid engineer who enjoys putting research into practice by building tools and services.